'Grease' Is Getting A Prequel All About The Pink Ladies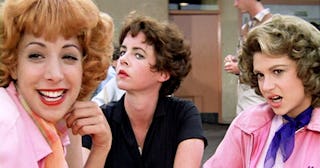 Paramount Pictures
Rise of the Pink Ladies will stream exclusively on Paramount+
On Friday, Paramount+ announced a new female-focused series, a Grease prequel called Grease: Rise of the Pink Ladies all about — you guessed it — the Pink Ladies, the group of satin-pink-jacket-wearing women consisting of Rizzo, Frenchy, Jan, and Marty, played by Stockard Channing, Didi Conn, Jamie Donnelly, and Dinah Manoff, respectively.
According to The Hollywood Reporter, Rise of the Pink Ladies will consist of 10, hour-long episodes and will take place four years prior to the OG Grease story.
"Before rock 'n' roll ruled, before the T-Birds were the coolest in the school, four fed-up, outcast girls dare to have fun on their own terms, sparking a moral panic that will change Rydell High forever," the show's logline states. And yes, the show, which will be written by Annabel Oakes (who produced, wrote, and directed the Netflix hit Atypical) will be a musical comedy.
According to Vanity Fair, Oakes will work alongside Marty Bowen and Erik Feig, who are also working on a Grease prequel, a film titled Summer Lovin'. Summer Lovin' follows Danny and Sandy's love story, specifically between junior and senior year — three-and-a-half years after the Rise of the Pink Ladies.
Rise of the Pink Ladies was originally titled Grease: Rydell High and was to stream on HBO Max, instead. The spinoff was announced in 2019 and described at the time as a reimagining of the original film, featuring some of the characters and boasting new original songs.
"Grease is an iconic pop-culture phenomenon that works for every generation, and I'm thrilled that our friends at Paramount were excited about the idea of opening up the show and putting it on a larger canvas for a weekly series," Sarah Aubrey, head of content at HBO Max, said at the time, per The Hollywood Reporter. "This is high school and life in small-town USA told on the scale of a big rock 'n' roll musical. It's Grease 2.0 but with the same spirit, energy and excitement you immediately think of when you hear any of these iconic songs. You're the One That I Want!"
But when HBO Max decided to scrap the show, Paramount+ nabbed it and gave it a new title and what The Hollywood Reporter called a "creative overhaul."
While no casting announcements have been made yet, we can't wait to watch the story of the Pink Ladies come to life. And we're not alone.
Grease was a total hit when it hit theaters in the late '70s. Not only did the blockbuster musical gross $400 million (with a $6 million budget), but it's spurred countless projects following its success, from revivals and tours to, more recently, a live reboot on Fox in 2016, starring Julianne Hough, Vanessa Hudgens, and Carly Rae Jepsen.