Greta Gerwig To Direct Margot Robbie's Live-Action Barbie Movie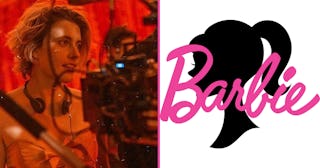 Greta Gerwig/Instagram, Mattel
The Oscar-nominated director will help tell the origin story of the popular doll toy
Two years ago, Mattel and Warner Bros. announced that they'd bring the iconic Barbie doll to life on the big screen. At the time, we learned that the film will star Margot Robbie, who is also producing the film through her production company, LuckyChap, and will reportedly tell the origin story of the popular doll toy. But since, we haven't had an official major update on the blockbuster film — until now. You see, now we finally have confirmation on who's directing the film, and we couldn't be more excited to see what the Oscar-nominated director will do with the anticipated movie.
According to Variety, Greta Gerwig — who was not only nominated for Best Director at the Academy Awards, but has also racked up a combined 10 Oscar nominations and one win for her critically acclaimed films Lady Bird and Little Women — will direct Barbie; and filming is slated to start next year. While Gerwig has been tied to the project since 2019, it was never confirmed she'd direct the film — until this week.
And none are more excited for Gerwig's involvement than Robbie.
"People generally hear 'Barbie' and think, 'I know what that movie is going to be,' and then they hear that Greta Gerwig is writing and directing it, and they're like, 'Oh, well, maybe I don't…'" Robbie told Vogue last fall.
Robbie also told the publication that the film "comes with a lot of baggage! And a lot of nostalgic connections."
"But with that come a lot of exciting ways to attack it," she said.
Robbie has also described the film to The New York Times as being "for both the fans and the skeptics" and that the endeavor will be "really entertaining but also completely surprising."
And that's all we really know about the film. Who will they cast as Ken, Barbie's love interest? And will they diversify the cast? Who knows, but in the meantime, Robbie has mentioned that the film is a "great opportunity to put some positivity out in the world and a change to be aspirational for younger kids."
Robbie's involvement as a producer should benefit the film, too, especially following LuckyChap Entertainment's Oscar-winning run for Promising Young Woman.
"I'm excited about this movie because it's emotional and touches your heart and honors the legacy while reflecting our current society and culture — and doesn't feel designed to sell toys," Toby Emmerich, chairman of the Warner Bros. Pictures Group, tells the Times.
"Familiarity with a toy or character is a start, but no movie makes it without clever character and story development," adds David A. Gross, who runs Franchise Entertainment Research, a movie consultancy.
Barbie is slated for a global 2023 theatrical release.