Greta Thunberg Trolls Trump After His Unhinged Election Tweets
by Christina Marfice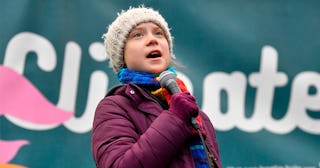 JOHN THYS/AFP/Getty
"Chill Donald, chill!" — Greta Thunberg and all of America
As the nation waits on the edge of its seat for more results in the 2020 presidential election, Donald Trump has been, as usual, trying to use his Twitter to sow chaos, disinformation, and lies about the vote count. Amid many, many tweets that the platform has censored for being misleading, disputed, or flat untrue is one that simply read, "STOP THE COUNT," in Trump's trademark all caps — because the president knows the only way for him to win is for just some of Americans' votes to be counted. As he continued to tweet lies about voter fraud that officials say isn't happening, climate activist Greta Thunberg entered the chat.
Thunberg gave Trump a taste of his own medicine, and it was glorious. She quoted Trump's "STOP THE VOTE" tweet, and replied, "So ridiculous. Donald must work on his Anger Management problem, then go to a good old fashioned movie with a friend! Chill Donald, Chill!"
For those who don't remember, that's how Trump responded to Thunberg when she gave an emotional and passionate plea to the United Nations to work harder to save our planet and our future from climate change. For anyone who hasn't been following along over the past few years, Thunberg, who is a literal child, has actually been one of Trump's favorite targets to harass and bully online, because that's the kind of thing we've accepted in the Trump age.
And it was far from the first time he trolled her and she got him back.
But it could all be over. As more votes are counted, Joe Biden is steadily increasing his lead in a number of key states, and soon we could go back to being a country where our top elected official doesn't bully teenagers on the internet. Can you imagine?
And to her incredible credit, Thunberg has taken it all in stride. She's been the absolute picture of grace and has never once let Trump's petty version of politics overshadow her mission: To reduce carbon emissions, slow climate change, and quite literally save the world. We have no choice but to stan.
This article was originally published on