Grieving The Death Of A Parent When You're Estranged From Your Other Parent
by Anonymous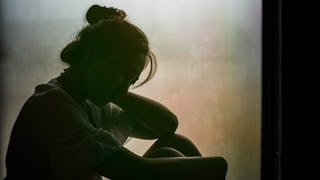 kaipong / Getty
The last few days of our dad's life was spent peacefully in hospice. As the nurses walked in and out of the room, we would ask them question after question and every time they answered, they would say, "It is all part of his journey. Everyone has their own journey and each one is different."
Two weeks later, I began my own journey. One without my father. One I had never experienced before. One I never anticipated two months earlier as my father's health rapidly declined and his own journey ended.
Grieving is a journey.
This journey has been especially difficult as it only intensifies the reality of my estrangement from my own mother.
I am now navigating life without parents. The magnitude of this weighs heavy on me every single day.
Five years ago, when I chose to cut ties with my mother, I had another healthy, active parent who was involved in my life. The loss of that relationship haunted me but I could fill the void with my focus on strengthening the bond with my father. My mother, personally struggling and unable to parent, created a toxic dynamic for myself and my family and I felt a great relief when I was strong enough to walk away.
The only time I questioned that decision was the day my father passed away.
There are days when I am consumed with thinking about which loss is more painful and cuts the deepest — the unexpected loss of my father or the ongoing void of not having a mother.
She wasn't there the two months he spent in and out of hospitals and elderly rehabilitation centers to help us navigate his rapid onset dementia. She wasn't there to question the doctors and nurses and demand they give him every option to get better. She didn't provide comfort as we watched our gentle, fun-loving father distressed in a hospital bed, not recognizing us or knowing where he was.
She didn't hear him say, "I am done" as we realized that we had pushed his journey too far. She wasn't there to share in the telling of our funny childhood memories in that hospice room. She wasn't in the receiving line at the wake to hold our hand. She barely expressed her sympathies to me over a text. And when we needed her to step-up and do one thing for us in this process, she let us down.
Months after the death of my father, I am well into my own journey of parenting without parents. The grief and loneliness come in waves but I am inspired by my eight-year old to keep moving forward. Adopted from Ethiopia as a baby, his own grief and loss journey has taught me more than I realized.
He encourages me to find hope in the joyful memories and reminds me not be afraid to cry when I need to. His own wonderful memories of my father have helped keep him a focus of our lives and still very much present. His strength and faith have given me insight into how powerful love and relationships truly are.
I think we name experiences "journeys" to justify that our pain is actually a process that will result in strength and learning. And maybe it will. But it doesn't make the journey any more bearable. We put on a smile, grieve and continue with our lives while still holding on to that place of disbelief and denial.
This article was originally published on