Grieving Dog Owner Cancels Pet Food Order, Receives Portrait Instead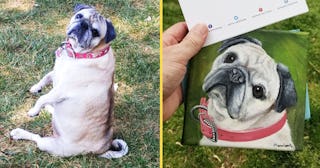 Joseph Inabnet/Facebook
Being nice pays in so many different ways, and Chewy.com is a great example for all.
One of the universal truths about being a pet owner is that eventually, you are going to lose your beloved little fur (or scaled, feathered, etc.) baby — and it is never easy. After all, animals give us unconditional love, and can often be there for us in ways that other humans can't.
Joseph Inabnet recently learned about the pain of losing a beloved pet when he was forced to put down his dog, Bailey, in October 2018. However, the Virginia-based man got a loving dose of support from an unexpected source, the online retailer Chewy.com, and the incredible act of customer service has gone viral.
In a Facebook post, Inabnet explains that he fed his pug a very expensive type of prescription dog food, that cost about $70 a bag. When his pup passed away he was left with a full, unopened bag of chow, and decided to reach out to Chewy and see if they would allow him to return it. Instead of asking him to send it back, they told him to donate and that they would offer him a full refund. He was more than content with their great customer service, but what they did next seriously shocked him.
First, they sent him a super sweet card. "Pets come into our lives, leave paw prints on our hearts and are forever changed," the sweet, handwritten note read. " We're sending lots of love and positive thoughts. If you ever need anything, we're always here." Are you getting goosebumps yet? Because we totally are.
But that's not it. The company decided to go next-level customer service by having a personalized oil painting commissioned.
"Today, completely out of the blue, I received from Chewy.com the card and painting below," Inabnet wrote in the Facebook post that has been shared over 82,000 times. "I have also provided picture of Bailey that I must have uploaded to Chewy at some time. This is a real oil painting, and the artist, Sharon LaVoie Lamb, did an amazing job."
Because he was so floored by Chewy's customer service, he wanted to share the amazing act of kindness with the world. After the post went viral, it was clear that Inabnet wasn't the only person who was seriously touched by the gesture — or even the only individual who had been on the receiving end of their graciousness. Turns out Chewy is famous for doing everything from sending out birthday cards to celebrate their little loved ones on their special day to sending roses and personalized portraits to comfort owners after losing their beloved pets.
This heart-warming story is a reminder that a little bit of love, compassion and small acts of kindness can go a long way — even in business. It should serve as motivation for other companies to follow Chewy's lead and go the extra mile for their customers. Not only will it keep them coming back, but will also inspire others to use their services as well. In fact, according to recent data, Chewy's stock jumped a whopping 77 percent after the story went viral.
Maybe the nice guys really do win after all.
This article was originally published on