These Grieving Mothers Are Working Together To Stop Underride Collisions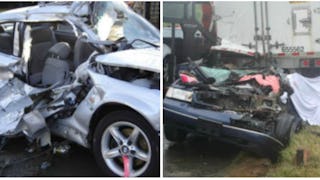 LOUIS DURSO AND MARIANNE KARTH
After suffering the unimaginable, two moms have joined forces to make sure that no one else has to endure the pain they have.
In 2013, Marianne Karth lost her two youngest daughters, AnnaLeah and Mary, while they were traveling together in their car. Upon the collision, Karth's daughters were stuck underneath the underride of a semi-truck, causing AnnaLeah to die on scene and Mary to die at the hospital. But because Karth's side of the car remained steadily outside of the underride area, she survived the accident.
On the day before Thanksgiving, in 2004, Lois Durso lost her sweet Roya Sadigh while she and her fiancé were traveling home to see family. Just like Karth's instance, Durso's daughter died but her fiancé did not. The reasoning? Sadigh was the only one caught underneath the underride.
"We all loved Roya so much," Durso told Scary Mommy. "She was precious and treasured by all who knew her. As any parent can attest, words can never express the profound loss of a beloved child."
For these parents, the most infuriating and devastating part about these accidents is that they didn't have to be fatal.
"One of the most distressing things is that this could have been prevented, had there been effective technology on the truck. Which is possible," said Durso.
Now, Durso and Karth are working together through their grief to petition and fight for a decrease in underride collisions. Their bill — called, "STOP Underrides!" — calls for side and rear-underride protection on every truck.
To show you just how seriously we need to take this, check out the video below.
This isn't something that is solely affecting tiny cars either. "From the pavement to the bottom of the trailer, it's almost four feet," Durso said. "So cars can and do go under it on a regular basis. Year after year. The industry knows that people die under their trailers. They have to."
In the event of an underride collision, the airbag never gets triggered, and a vehicle's crush zone can't work to protect you. You and your family are vulnerable to the most horrific injuries and even death.
Now let's watch what happens with some extra, added protection.
It's incredible, and it's something we don't take the time to truly think about. Durso told Scary Mommy the hardest part about getting this bill moving was the lack of awareness about underride collisions.
"At the beginning, nobody understood truck underride," she said. "They didn't even know what it was. So we spent the first year and a half essentially educating people on what truck underride is. We [Karth and Durso] have been [in D.C.] at least once a month for the last three years now."
So why aren't we seeing more of this life-saving underride protection today? Karth is frustrated to say, "Progress is being impeded by a cost-benefit analysis that places the cost to the industry over the value of human life."
This lack of urgency is infuriating and although some trucking industries have adapted their trucks with side and rear-underride protection, most are slow to move forward because of the cost.
So if not them, then how about us. We, the people, need to take a stand. If you can do nothing more, sign and share the STOP UNDERIDES! Petition now. And if you can do a little bit more, write to your legislators to support life-saving legislation.
"As we continue to uncover information about the ways that the underride has been swept under the rug for so many years, the grief at times becomes, once more, hard to bear," Durso added.
And we'd like to say, rightfully so. But despite the many hoops and obstacles these grieving mothers have been through, Karth and Durso remain strong, saying: "2019 is going to be a good year."
This article was originally published on