Trader Joe's, Aldi & Other Grocers Are Paying Workers Who Get A COVID Vaccine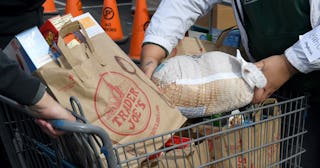 Ethan Miller/Getty Images
Since Instacart and Trader Joe's announced they're paying workers who get vaccinated, others have followed suit
With an increasing number of states adding grocery store workers to their phase 1B of immunization, some grocers are now offering to pay their employees to get the COVID-19 vaccine. Instacart, Dollar General, and Trader Joe's kicked off the incentive about one week ago, and since, other grocers have followed suit, including Aldi.
"With COVID-19 cases continuing to rise across the country, we're taking proactive steps to advocate that government agencies recognize Instacart shoppers as critical essential workers who deserve early access to vaccines," said Instacart CEO and founder Apoorva Mehta in a statement, per USA Today.
Instacart announced last Thursday they will pay workers $25 to get the vaccine, starting Feb. 1. The online grocery delivery company called their initiative the "Vaccine Support Stipend," and those eligible for the stipend include in-store shoppers, full-service shoppers and shift lead workers.
"Our goal with the introduction of our new Vaccine Support Stipend is to ensure that, when the time comes, Instacart shoppers don't have to choose between earning income as an essential service provider or getting vaccinated," Mehta said.
Last week, Trader Joe's said they will give employees two hours of pay per dose for getting the vaccine. They said they'll also shift around the schedule to ensure employees have the time to get vaccinated.
Aldi's offering a similar incentive: They'll provide workers with two hours of pay for each of the two vaccine doses, also promising that they'd help pay for the shots as well as ensure employees won't lose pay for missed hours from work.
"Providing accommodations so employees can receive this critical vaccine is one more way we can support them and eliminate the need to choose between earning their wages and protecting their well-being," Jason Hart, CEO of Aldi U.S., said in a statement.
As for Dollar General, which operates nearly 17,000 stores in 46 states, they said they will give hourly team members a one-time payment equivalent of four hours of regular pay after receiving a completed COVID-19 vaccination. As for salaried team members, they will give them "additional store labor hours to accommodate their time away from the store."
"We do not want our employees to have to choose between receiving a vaccine or coming to work," the company said in a statement posted to their website Jan. 13, emphasizing that they are not requiring employees to get the vaccine. "We understand the decision to receive the COVID-19 vaccination is a personal choice," the chain said. "And although we are encouraging employees to take it, we are not requiring them to do so."
Among those not offering incentives are Target, Albertsons and DoorDash. While Target Corp. has no plans for incentives, they will make the vaccine free and accessible to its 350,000 employees via their on-site CVS pharmacies, which will offer the vaccine to staff when available.
Why are incentives a notable move from retailers? While a Carnegie Mellon University (CMU) survey, taken by more than 1 million people, shows that more than 70 percent say they "would definitely or probably receive the vaccine if it were offered to them," there's still quite a bit of skepticism about and resistance to the vaccine, especially among people in Deep South states. According to CMU's survey, which was published yesterday, "states, including Mississippi, Louisiana and Alabama, have rates under 65 percent, suggesting much lower acceptance of the vaccine in their populations."
And in order to reach herd immunity, the U.S. will need a vaccination level of between 70 percent and 90 percent, according to Dr. Anthony Fauci, the nation's top infectious disease expert.
"We know there is a fairly sizable share of the population who don't want to get the vaccine or are reluctant to do so," Laura Boudreau, assistant professor of economics at Columbia Business School, tells USA Today. "So, it makes complete sense, to me, that we see employers with frontline workers trying to reduce the barriers for their employees to access the vaccines and maybe increasingly directly providing monetary incentives."
Late last month, a vaccine advisory panel at the U.S. Centers for Disease Control (CDC) voted on recommendations for vaccine distribution, saying grocery workers should be in the second group to receive shots after health care workers and nursing home residents. Among those in the second group, which boasts an estimated 50 million people, are firefighters, police, teachers, corrections workers, postal employees and people 75 and older.