19 Reasons Growing Up In The '90s Was The Best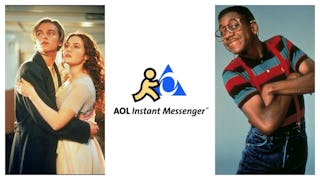 Twentieth Century Fox / AOL / Getty Images
If you grew up in the '90s, you remember when your mom would send you outside and tell you to be home when the streetlights came on. You rode your bike to your friend's house, or called them on the corded landline to see if they wanted to have a sleepover — and then just a few years later you carried a cell phone.
We're the generation that literally saw the world shift. We can remember life before computers, before social media, before cell phones. But we were also the first generation to learn the ins and outs of technology. We have one foot in the past, and one foot in the future.
That's just one of the reasons growing up in the 90s — whether you were a teenager or a young kid — was the best time to grow up. Here are just a few of the other reasons growing up in the 90s kicked ass:
1. Flannels were fashion staples.
I mean, flannel was a way of life. Warm and fashionable and comfortable AF. (Thankfully, they've made their way back.)
2. Slip dresses were just as comfy as flannels, but a lot more flattering.
Slip dresses felt like wearing your more comfortable underwear, but you could wear it outside. A slip dress was always enhanced by a baby tee under it, a choker, and complete with brown lipliner over nude lipstick, and pencil thin brows. ✅✅✅
3. We learned to wait for information.
If you wanted to see what was on TV, you had to watch the TV Guide channel and wait for the channel you wanted to scroll by. If you wanted movie times, you had to make a phone call, or look them up in the newspaper. You could only get your actual news from reputable news sources, not just some conspiracy theory Facebook group.
4. Harem Pants were a bold fashion choice.
AKA "Hammer" pants. Made popular by MC Hammer. They were 2 Legit 2 Quit.
5. MTV actually played music videos.
Sure, they created the first reality show with The Real World, but we actually got to see music videos in a much heavier rotation. And where would be be without "TRL?" That show was a token part of a 90's childhood. Let's bring it back, please.
6. Teen movies were at their peak.
Sure, the genre came into existence in the '80s, but the '90s perfected the form. Movies like Clueless, The Craft, Empire Records, 10 Things I Hate About You and She's All That were definitive of the decade and introduced to some of our favorite trends and pop culture references.
7. Classic rap and R&B jams.
Rappers like Dr. Dre, Snoop Dogg, Biggie, Tupac and Salt N Peppa made rap a mainstream success. Groups like TLC, Boyz II Men, and the Fugees were the soundtrack to any school dance. Brandy and Monica sang "The Boy is Mine," and the world was graced with the angel that was Aaliyah.
8. Titanic had everyone swooning.
It's one of the best selling movies ever, and it made total megastars out of Leo DiCaprio and Kate Winslet. It was so epic, it was released on two VHS tapes. How many times did you see it in theaters?
9. Chunky shoes ruled the school, and Doc Martens were king.
Seriously, the thicker the sole, the better. And Doc Martens were the quintessential chunky shoe. The only thing that made these ass-kicking boots even more badass was when they were paired with the aforementioned flannel and/or slip dress.
10. Everything cool came from Seattle.
Where would we be without bands like Nirvana, giving our angst a soundtrack? And whatever would we have done without Starbucks Frauppucinos?
11. You took your selfies with a disposable camera.
So you had no idea if you actually got your faces in the shot until you had the film developed. Spoiler alert: someone was always cut out. But, the anticipation of picking them up from your local drugstore can't be beat.
12. Boy Bands were the soundtrack to junior high.
Sure, 80s girls had New Kids on the Block, but 90s girls had *NSYNC, Backstreet Boys, 98 Degrees, and O-Town. They had matching outfits, ramen noodle hair, and a grip on our hearts. (They still do!)
13. No social media.
As much as we love it, it was nice not seeing everyone's thoughts ALL THE TIME. Plus, it's easy to pretend that there is no photographic evidence of all the horrible decisions we made back then, be it neon clothing, or silver Wet 'N Wild lipstick. 🙈🙈
14. The Spice Girls taught us all about "Girl Power."
The Spice Girls were more than just a singing group; they were a global phenomenon. They taught us how to be badass, fierce, women, and embrace our sexuality and our individuality.
17. Cartoons turned edgy.
ABC's "One Saturday Morning" lineup, with shows like Recess and Pepper Ann, made getting up early on a Saturday morning worth it. And Nickelodeon killed it with shows like Rugrats, Doug, and Rocko's Modern Life. They were funny to us kids, and now that we're adults, we get allll the jokes.
18. "You've Got Mail" was music to your ears.
If you had the Internet, you probably used AOL. And you got mad every time someone picked up the phone and kicked you out of the chatroom you were in. A/S/L baby?
19. TGIF was the best part of your week
There was no better place to be on a Friday night than in front of your television watching our favorite shows like Full House, Family Matters, and Boy Meets World.
Man, talk about a healthy dose of nostalgia. If only I could go back and sip on an Ecto-Cooler while I have a packet of Dunkaroos. Trying to get the perfect cookie to frosting ratio was always the biggest challenge. Someone pass the cucumber melon body spray from Bath and Body Works and get me a Crystal Pepsi.
Hear what our real-life Scary Mommies, Keri and Ashley, have to say about this when they give their (always real) thoughts in this episode of our Scary Mommy Speaks podcast.
This article was originally published on