Growing Up With Your Cousins Is A Priceless Gift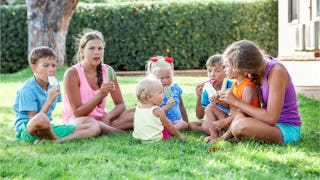 Shutterstock
My daughter asks me for the same thing every year for her birthday and Christmas — a sister. Actually, when I think about it, she asks for a sister for any holiday that comes up where she gets gifts.
This started when she was 3 and is still happening — she will be 12 in two weeks.
I have told her a few times I can't manage that one. My days of having children are over, and besides, who knows if she might get stuck with a third brother.
"I don't care," she always says. "I'll just take a baby. I don't care what kind it is." And every time, I am so thankful I can remind her she has her cousins, most of whom live close by, to play with instead.
She has six of them who live within a 10-mile radius, another one about a half-hour away, and two more who live across the country but come and stay every year for a few weeks. We make sure they pack in lots of quality time together during their short stay, and it makes them all so happy.
If you ask me, having lots of cousins who live close by is much better than an extra sibling. This way, my sisters and I get to swap kids without having to do the heavy lifting all of the time. The older ones can occupy the younger ones, and everyone is happy.
Being with cousins wasn't something I experienced as a child. I had my siblings, but we didn't interact with our extended family enough for me to share a close bond with any cousins. So now that I am an adult, I still don't really know my cousins very well, but I really wish I did. I would love to share the bond I see between my kids and their cousins. A bond that is precious to them, but it is also precious to my sisters and me. There is nothing like sharing your kids with a sibling whom you adore, and it is priceless to watch them grow up together.
Last Saturday, my youngest sister and her three kids came over, and we ate some good food and blew through 120 sparklers. We let the kids stay up too late, eat too much sugar, run around like feral people, and it was fabulous. Everyone had the time of their life, and it is so nice to know we have the opportunity to create these memories over and over again. We don't have to wait until there is a holiday or a long vacation to spend time together.
Growing up with their cousins, my precious nieces and nephews, close by is truly a gift. It allows our kids to make precious memories with someone else who knows the family dynamic and can relate to the dysfunction. But the added bonus here is that they aren't together enough to get sick of each other, or to fight like they do with their siblings. They are usually so excited to be together, it gives the adults some good quality time to talk and mingle without the sounds of kids trying to hurt each other in the background.
My kids are truly best friends with their cousins, but their connection is deeper than the friendship they share with their peers. They share their family history, but they also share mannerisms and cute quirks, and look so much alike. I can see so many of the same traits in my kids and my sisters' kids, it blows me away some days. I love it.
Cousins are clever little creatures because they know their parents' weak spots, and they quickly figure out if they gang up on you enough, you will allow them to get away with a lot more than you would if it was just your kids at home. I secretly love when they do this, and I think my siblings would agree. It can be annoying at times, but it also showcases how comfortable and confident they are together.
I have to admit, I would rather have my niece or nephew spend the night at my house than one of my kids' friends. They already know my limits, and I don't have to hold back and be on my best behavior if they start getting too wild and rambunctious. They are aware Aunt Katie doesn't like a lot of extra noise and expects them to clean up after themselves, so there is no pretending on my part. It is very freeing.
And this fall, my daughter's greatest wish is going to (kind of) come true. My sister is going to give birth to a baby girl. We can't wait to meet her. She has no idea how much love and attention she is going to get from the seven cousins who are anxiously awaiting her arrival. She will never be short on love, or best friends.
This article was originally published on