'Gruffalo' Author Re-Imagines Her Iconic Characters In Coronavirus Cartoons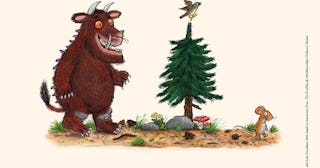 Julia Donaldson / Axel Scheffler
The Gruffalo author re-worked her old stories in light of the coronavirus
The brains behind the beloved children's book series The Gruffalo (and also Stick Man and Zog, to name a few) have reimagined some of their favorite storybook characters to exist in our brave new world during the coronavirus pandemic. Author Julia Donaldson and illustrator Axel Scheffler have written and illustrated new panels featuring some of their favorite characters like The Gruffalo, Stickman, and The Smeds and The Smoos practicing social distancing, washing their hands, and dealing with stay-at-home orders.
"We hope you enjoy these reimagined images and verses from [Julia Donaldson] and [Axel Scheffler] most-loved books and characters in light of the current times we all find ourselves in," the official Facebook account for The Gruffalo shared online.
"Axel had this idea of doing some witty sketches, each based on one of our books and each kind of incorporating a tip about coronavirus," Donaldson told BBC Breakfast on Friday, April 3, 2020.
The new pages include illustrations like the Room on the Broom protagonist sitting six feet apart from the others on her broom, The Gruffalos staying safe inside their cave, and the Scarecrows postponing their wedding.
"[But] I wanted to do something light-hearted and cheer people up and I thought, 'What if I imagine our characters in corona situations?'" Illustrator Scheffler said. "It's really more about entertainment than serious information."
Though they didn't intend it to be educational, the second-hand knowledge is important. In one slide, Zog and the Flying Doctors teach the lion how to sneeze into a tissue and not his paw and in another slide, the characters emphasize washing your hands.
These are very soothing stories for these trying times and Donaldson's only hope is that these new stories help families but aren't seen as "preaching."
In addition to the new stories, the author also announced a new online broadcast — "Julia Donaldson and Friends" — which will air every Thursday at 4pm on Facebook and hopefully provide some uplifting content and entertainment for families currently enduring the coronavirus lockdowns.
Each week she'll read a poem, story, song, or illustration and will be joined by illustrators like Axel Scheffler, Rebecca Cobb, Lydia Monks, David Roberts and Nick Sharratt. During Thursday's inagural episode, Donaldson and her husband performed "A Squash and a Squeeze," and it was delightful.
"During this very difficult time, I am glad to be able to do something useful from the confines of my home," Donaldson said during the livestream. "I hope that my stories, songs and poems bring a little cheer to those who read them or tune in to my new weekly broadcasts. I look forward to sharing some favourites and some lesser known works with families everywhere."
This article was originally published on