Gun Owner Destroys His AR-15 In Powerful Viral Video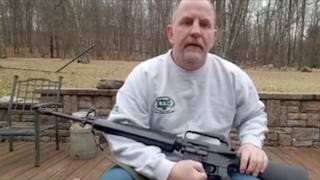 Image via Scott-Dani Pappalardo
Viral video shows gun owner destroying his AR-15 after Parkland shooting
After last week's horrific school shooting in Florida (and the 18 other shootings in 2018 alone), it's hard to find even a molecule of faith that our country will ever move forward, united, on the topic of gun control. However, there are a few glimmers of hope here and there.
One of those glimmers is a recent video featuring a proud gun owner destroying his AR-15 in response to our nation's latest school shooting.
Scott Pappalardo took to Facebook following the tragedy in Parkland, his AR-15 in hand. The gun is the same type used in last week's shooting at Marjory Stoneman Douglas High School, which claimed 17 lives.
"A lot of people have said to me, 'Well, what do you need to own a weapon like that for? Its only purpose is to kill,'" Pappalardo began. "And I'll be honest, it's a lot of fun to shoot. I'm not a hunter, I've never killed anything with it except a bunch of targets."
The New York resident — who has a tattoo on his arm dedicated to the second amendment — went on to say that he first considered giving up his gun after the school shooting in Newtown, Connecticut that killed 20 children, but never followed through.
"That's five years ago now, and since then over 400 people have been shot in over 200 school shootings," Pappalardo said. "So I guess my words were just empty words in the spur of the moment. Now, here we are, 17 more lives lost, so when do we change? When do we make laws that say maybe a weapon like this isn't acceptable in today's society?"
He then took his AR-15, donned some safety goggles, and sawed the whole thing in half. And I maybe (definitely) quietly cheered from my bed.
"I know a lot of people are going to say I'm stupid for doing that, but this was a personal choice," Pappalardo concluded. "I can't live knowing that my gun is out there and it can one day possibly commit a horrific act like the other day in Florida."
His video has since been watched a whopping 17 million times, pulled in more than 200,000 likes and received lots of applause.
Here's to more people like Scott, and hopefully many more moments of hope during this very, very bleak time.