Guy Fieri Low-Key Opens 'Flavortown Kitchen' Delivery In 23 States
by Julie Scagell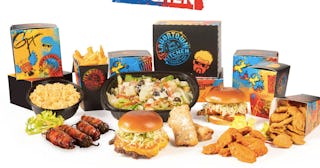 Flavortown Kitchen
Guy Fieri's continuing to find ways to support restaurants during the pandemic
Chef Guy Fieri has been busy during the pandemic raising serious money for the National Restaurant Association, advocating for restaurant workers, and feeding firefighters in Northern California. But he's also been working on a new project that's already in 23 states under the name of Guy Fieri's Flavortown Kitchen — and we're here for it.
Fieri, celebrity chef best known for his show Diners, Drive-Ins and Dives, launched a delivery-only restaurant operating out of existing restaurants and industrial kitchens around the U.S. and the name says it all. The menu calls for big flavors that only the King of Flavortown could muster like a Bacon Mac N Cheese Burger, Jalapeño Pig Poppers, and Fried Pickles & Ranch. Dishes include ingredients like "super melty cheese," "Donkey sauce," and "Chicken Guy" seasoning. No idea what those are but they sound fantastic.
If you've watched Fieri's shows, it's impossible not to love his excitement for food and all the dive joints around the country who are living up to his standards. He manages to get the word "Flavortown," a mythical place where flavors reach their peak of awesomeness, into most episodes, which is both comforting and hilarious.
On Instagram, Fieri explains the laws of Flavortown, writing, "In the culinary justice system, taste-based offenses are considered especially heinous. In Flavortown, the one dedicated detective who investigates bland food is the leader of an elite squad known as the Sketchy Chef Unit." Amazing.
The expansion of these "ghost kitchens" — aka a takeout/delivery-only restaurant with no proper brick and mortar — like Fieri's new Flavortown Kitchen were popping up pre-pandemic but have really taken off since. Eater reports on this new phenomenon, referencing delivery-joint Pasqually's Pizza & Wings (which operates out of Chuck E. Cheese) and Wing Squad (a sort of annex "ghost kitchen" within Buca di Beppo), which allows chain restaurants to serve a larger selection of food out of its existing kitchens.
Fieri and other restaurant concepts like this may just be keeping some service industry members employed at a time when the pandemic has caused mass unemployment. Flavortown Kitchen is a partnership between Fieri and Robert Earl, the Planet Hollywood founder, who worked with Fieri on their Chicken Guy chain, Eater reported.
"Flavortown Kitchen is a delivery-only restaurant featuring real-deal flavors from Chef Guy Fieri," it said on the company's website. "From our signature Bourbon Brown Sugar BBQ Wings to our award winning Mac N Cheese Burger, all of Flavortown's favorites come straight to your door step."
Any time we can find a new food to order to keep the variety going after months and months at home, it's a win. Plus, supporting someone as awesome as Guy Fieri just feels right. Welcome to Flavortown, folks. Click here to find a Flavortown Kitchen near you.