Gwen Stefani Says She Would Be 'Blessed' To Have A Gay Son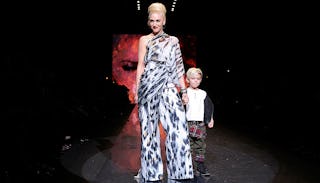 Photo via Jemal Countess/Getty Images
Gwen Stefani says she would "feel blessed about" raising a gay son
If one of Gwen Stefani's three sons told her he was gay, she would only be supportive and loving. "I would be blessed with a gay son. You know that I would feel blessed about that," Stefani said in a recent interview. "I just want my boys to be happy and healthy, and I just ask God to guide me every day to be a good mother because it is not an easy job."
Stefani's candid interview with PrideSource is one of several sincere pieces on the No Doubt frontwoman who just went through a very public divorce after 13 years of marriage to Gavin Rossdale. The frank discussions were also prompted by her third album, "This Is What the Truth Feels Like," which is a collection of emotional songs about the trying time in her life.
Stefani said she has a large circle of gay friends, but that she is closest to her hairdresser and makeup artist. "I turned to them this whole time period, during my whole tragedy, and they have been really, really super supportive and loyal and made me look pretty when I didn't feel pretty," she said.
The musician said she also turns to her gay friends for advice on parenting. "I always ask my gay friends, 'OK, so what was it like when you were a little boy?' Because I do know that it's gotta be difficult to be the alternative, to not be the mainstream, or to be different, if you want to call it that," she said. "I feel like it's less and less (like that) these days, and it's hard for me to understand because it doesn't seem different or weird or anything anymore because it just seems so normal to me."
Her thoughts on possibly parenting a gay child are ideally what any gay child would hear from their parents about their sexuality. "It doesn't really matter if you're gay, straight, whatever," Stefani said. "I just want my kids to be happy, and whatever journey God gives them is their journey. I just need to be there to be the most supportive mom that I can be and that's what I'm gonna be."
Kudos to Stefani for reminding us that support and unconditional love are the most important things parents can give their children.
This article was originally published on