Gwyneth's Daughter Shames Her For Sharing A Nude Selfie On Her BDay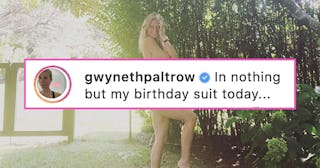 Gwyneth Paltrow/Instagram
Apple Martin is decidedly not here for her mom's nude birthday photo
Gwyneth Paltrow is kicking off her 48th birthday by throwing it all the way back to the day she was born — in her birthday suit. While she looks stunning for 48 (or 28 for that matter), it's her 16-year-old daughter's reaction that anyone with a tween or teen can appreciate.
On Sunday, the actress and mom-of two stripped down to, well, nothing in honor of her 48th year on this planet. "In nothing but my birthday suit today," she captioned the shot, giving props to her company Goop's products for making her glow.
"Thank you all so much for the birthday wishes and thank you to @goop's insanely amazing brand new body butter for making me think I can still get my kit off," she added.
Paltrow's daughter with ex-husband Chris Martin, Apple, commented on the post with only one word but we can imagine the tone with which it was written. "MOM," she wrote in all caps in the comments section, as captured by Comments by Celebs.
The Politician actress then responded to Apple's comment with three laughing in tears emojis.
https://www.instagram.com/p/CDrItfeD86V/
"You know, now it's different, 'cause kids are like, 'Can I have a YouTube channel?' and I'm like, 'No, you can't. Absolutely not,'" Paltrow said of her kids using social media in July during an interview on Rob Lowe's Literally! With Rob Lowe podcast. "As a parent you think, all I can do for these kids is teach them right from wrong and teach them what work is," she added.
The Iron Man star also talked about watching Apple grow up and seeing her personality develop. "It's really been interesting to be [Apple's] mother, because as she's come into her own, it's like watching her harness her own power with every passing year, and I'm just like, 'What is this child here to do?'" Paltrow said, speaking of her daughter. "She's so bright and so funny… she's hilarious."
Producer Brad Falchuck also paid tribute to his wife, posting a photo of her laying on the couch, saying, "This badass is 48 today."
He continued, "She makes pizza from scratch, is never late for cocktail hour, makes looking good annoyingly easy and never skips an opportunity to put an a–hole in his place. She makes friends feel like family and family feel like friends. Trust me, she's the best. Happy, happy, happy birthday, Beauty. I love you. PS – if anyone reading this wants to get Gwyneth something for her birthday, please VOTE! Register your friends to VOTE! Drive people to the polls! She absolutely loves it when you VOTE!!"