Gwyneth Paltrow Suggests Detoxing Can Help COVID Long-Haulers
by Julie Scagell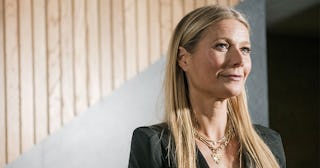 Morgan Lieberman/FilmMagic/Getty
The supplements have not been proven to help by any medical expert
We're used to seeing Gwyneth Paltrow peddling outrageous extravagance on her lifestyle site, Goop. While $2,000 Ouija boards, vagina-scented candles, and leather satchels to hold your watermelon (price available on request) may be a bitch slap to your common sense, peddling supplements in the name of healing the long-term effects some experience from COVID-19 is dangerous.
Paltrow recently published a piece on her called: "GP's Picks: Healing My Body with a Longer-Term Detox"; and in it, she explains she's still recovering from the impacts of the virus.
"I had COVID-19 early on," she wrote, "and it left me with some long-tail fatigue and brain fog. In January, I had some tests done that showed really high levels of inflammation in my body."
There are many people who suffer longer-term symptoms, like lack of taste or smell, exhaustion, prolonged headaches, and insomnia. Paltrow explained she consulted her "functional medicine practitioner" and chiropractor, William Cole, who put her on a new diet adapted from his new book Intuitive Fasting (published in partnership with Goop), and recommended supplements which, you guessed it, are now being sold on Goop's website.
The eating plan, which she says is "keto" and "plant based," also has her fasting each morning until 11 a.m. It's also sugar-alcohol-free, fun-free, and not remotely backed by any science that it will improve COVID-19 symptoms.
"Will's also got me on supplements, most of them in service of a healthier gut," she wrote, then lists a host of other items Will has her take, including but not limited to butyrate (Will says it supports a healthy microbiome), a daily Madame Ovary supplement (WTF, Will), fish oil, B vitamins, some vitamin D3, selenium, zinc, vitamin C and resveratrol, and a G.Tox Detoxifying Superpowder (that Will has her taking morning and night).
It's unclear if Will also recommends the tank top, infrared sauna blanket, $220 hiking shoes, or $8,600 "Wholeness Medallion," but odds are these are also linked to returning to tippy-top shape after recovering from COVID-19.
"The necklace is just me," Paltrow wrote. "I can't go out without a necklace. I love to wear several at once, but for a hike, just this one is perfect."
Who in the actual fuck goes hiking in a $9,000 necklace besides Mr. T?
(Also, a study published earlier this week found that vitamin C and zinc don't help COVID-19 symptoms. Her supplements ring in to the tune of $90 a day — a day — which is laughable if it weren't so disgusting.)
Your best bet? Seeking help from an actual medical doctor who can monitor your symptoms. According to the Mayo Clinic, "Many large medical centers are opening specialized clinics to provide care for people who have persistent symptoms or related illnesses after they recover from COVID-19."
Go home, Gwyneth; you're drunk (on mocktails).