Gymboree Is Closing All 900 Of Its Stores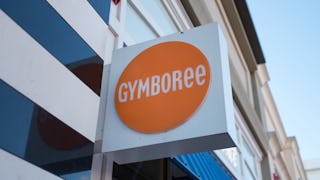 Image via Smith Collection/Gado/Getty Images
If you've got gift cards or returns to make to the kids' store Gymboree, you might want to make that happen pretty soon
Children's clothing store Gymboree is reportedly filing for Chapter 11 bankruptcy next week, and it's also expected to liquidate and close its 900 remaining locations across the country.
This news comes after the kids' clothing retailer filed for bankruptcy in June 2017 and reemerged in September of the same year.
The San Francisco-based clothing store, which used to have around 1,200 locations, currently operates about 900 stores nationwide, including over 100 outlets. But the struggling store seems to be shuttering its locations for good as its second bankruptcy looms.
In November 2018, the store announced it would discontinue its value chain of stores, Crazy 8, and that it would undergo a company-wide restructure – but that apparently wasn't enough to save the remaining locations.
The company's higher-end brand, Janie and Jack, still has over 100 stores open in the U.S., which they reportedly would like to keep open and find a buyer for.
While the brand has not made an official announcement yet, or an announcement on how gift cards will be handled, it's probably safe to say that you should use them sooner rather than later – or, if you're a badass, possibly hold them until the big store closing sales start to nab some good liquidation deals.
If you have returns or exchanges to make that are still around from the holidays, definitely put it on the top of your to-do list.
If you're worried about your local Gymboree Play & Music center, no worries there. The centers were sold to another company in 2016 and seem to be doing well. They will keep operating their parent-kid classes as normal.
This bankruptcy and closure comes a little over a year after beloved toy store Toys 'R' Us shuttered its doors. In that case, parents were given pretty ample time to use gift cards, though their website was shut down early, living some in a bind. Hopefully, that won't happen here and parents can score some adorable deals before Gymboree shuts its doors for good.
This article was originally published on