Mom Shares 'Saggy, Stretchy Tummy' Pics To Help Others Feel Comfortable In Their Skin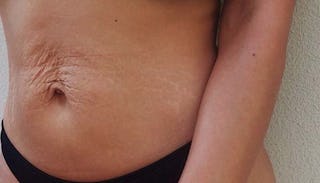 A mom takes to Instagram to show off her real postpartum body
Haddas Ancliffe is a 21-year-old mother and blogger who lives in Australia. She recently got a lot of attention for posting a gorgeous image of herself breastfeeding her son in a flawless dress at her sister's wedding.
"Gotta do what you gotta do, wedding or not. #normalizebreastfeeding," she writes.
The image has been widely shared, because it's absolutely gorgeous. It's almost impossible not to browse through her other images, because her family is so adorable. And when you do, you'll come across some other gems: Ancliffe sharing images of her real postpartum body.
"When I shopped for this particular bikini one of the sales ladies told me that I needed to start drinking soy milk and recommended some cream to tighten the skin on my tummy," she writes. "First of all – I don't have a problem with my saggy tummy. Second of all – no one else should have a problem with my saggy tummy." She decided then to start showing off her "saggy, stretchy tummy" in hopes that it would make others "feel comfortable in their skin."
Our bodies go through so much and change so much after children. And it doesn't matter what size you are, you are never immune to self doubt when it comes to body image. Ancliffe has a body most women would kill for: it doesn't take away her right to have feelings about the changes she's gone through. You don't have to be overweight or unfit to carry doubt about the way you look. Weight has absolutely nothing to do with accepting what you see in the mirror. If it did, eating disorders wouldn't exist. Body image issues wouldn't exist. We don't always see what the rest of the world sees. Her images show that all women may have parts of themselves that others regard as "imperfect," and that they have to put a conscious effort into loving.
No woman should be left out of the body positivity conversation. The focus on body is exhausting — for all women. Ancliffe reminds us to love what we have — and that's an important message.
"When your body no longer looks like the Instagram bikini model and you have a mom bod, be proud!" Even those of us who never had an Instagram bikini body can relate to this kind of pure positivity. This is a message we all need to hear.