This $130 Christmas Commercial Is Making The Internet Feel Things
by Christina Marfice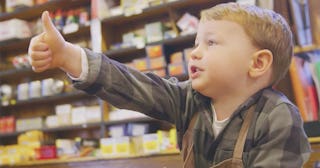 Hafod Hardware/Youtube
This family-owned hardware store's Christmas commercial will brighten up your whole day
As holiday shopping ramps up with Christmas right around the corner, a lot of brands and companies are pumping serious money into flashy advertising to try to reel in as many holiday shoppers as possible. But not Haford Hardware, a small, family owned hardware store in Rhayader, Wales. The store filmed its own Christmas commercial on a serious budget, but the result is one of the most touching holiday ads we've seen all season.
Tom Jones, who runs the store, teamed up with his best friend, Josh Holdaway, to create the ad. They shot and edited it themselves in just one day. Jones' 2-year-old son, Arthur, was the perfect star. And the DIY approach meant the entire commercial cost just $130 to produce — money that all went toward renting a recording studio and hiring a singer to record the song playing in the background, a dreamy, ethereal version of "Forever Young" (and yes, they'll be releasing the song, and yes, it will make you teary in this beautiful commercial).
And here is the absolutely heartwarming result.
The commercial follows little Arthur, who acts like his store owner dad. He wakes up in the morning, eats his cereal, brushes his teeth, and heads to the store to open up. He does various chores throughout the day, like sweeping the floor, wiping down the cashier counter, and stocking products on shelves. He has adorable interactions with customers, like when he gives change to one and offers him a thumbs up as he heads out the door, and when he (badly) wraps a gift for another, again offering a tiny thumbs up as the customer leaves the store.
Arthur even sits down in the store's office at one point, armed with a calculator and his coloring book, so, you know, fully ready to do some important hardware store business.
At the end of the commercial, after little Arthur has finished closing up the store, we see him walking away down the street, only now, he's his grown up dad hauling the family Christmas tree. "Be a kid this Christmas," the screen reads.
It's one adorable commercial. Obviously, the internet is loving it.
https://twitter.com/jetpack/status/1202173225482047488
https://twitter.com/jetpack/status/1202371006070960129
Making a Christmas commercial isn't new for Haford Hardware – Jones said they've been doing it for a few years, but the ads are just for social media and don't usually get a lot of views. This is the first time they've had one go viral.
"We've had a great response these last two years, but nothing like this year. It's just been crazy," he told CNN. "We just make it for fun, really. We try and put a bit of a spotlight on small independent businesses that you get in rural areas where we are, and we try and show that we can offer just as much as your high street chains."
This article was originally published on