You Can Now Buy A Calendar Full Of Hairy Men Dressed As Fairies
by Valerie Williams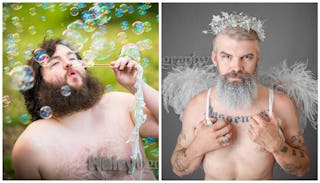 Image via Heather Larkin
The calendar's proceeds all go to charity, not that we needed another reason to buy it
Last year, photographer Heather Larkin brought us the most joyful of April Fool's Day surprises in the form of hairy dudes dressed as magical woodland fairies. She normally photographs adorable little girls living out their fairy fantasies, but switched it up for the day as a fun prank. Larkin also hinted she might do it again this year.
Luckily for us, she made it happen.
Larkin's website is called Fairyography and features downright magical images of kids having the photoshoot of their dreams. It's all still there but today, there's an extra feature — a tab dedicated to the hairy fairies appropriately titled Hairyography.
A year ago, Larkin told Scary Mommy the hairy fairy photos were just a fun thing she did with a bunch of guys she knew who were willing to dress up as fairies and pose in the woods. This year's installment of hairy fairies has a higher purpose — Larkin created a calendar using all new photos and proceeds from its sale are going to the Prostate Cancer Foundation.
The results are both breathtaking and hilarious. Mostly, hilarious.
Yes, he's wearing a unicorn horn, but it's the tuft of armpit hair that really makes it.
Either this guy is a real-life Disney princess or that bird is a super convincing fake. Can we please pretend the former? I think I need this.
Come on. We all know someone who needs a calendar full of glittery, hairy guys in tutus. Maybe a few someones.
This fellow blowing bubbles and not giving a single damn might be our favorite.
Or, this tatted gentlemen with a beard full of glitter and the most ethereal feathered wings we've ever seen.
As Larkin explains on her website, the best kind of April Fool's jokes are the ones that are funny in a nice way. "I don't like mean jokes, or jokes that make people feel bad or stupid. I like stuff that you can tell is a joke, but it's still funny anyway."
Whimsical photos of hairy guys dressed in feathers and sparkles absolutely fits the bill.
Check out this majestic winter princess.
Make a wish that you'll ever look as fabulous as these burly beauties.
Like a page out of a fairytale. If that fairytale involved a bearded man in a tank top with a flower crown in his hair.
The calendar also features an actual merman.
Hello, could we be more in love with this concept?
We applaud Larkin for her creative (and philanthropic) endeavor, and her manly models, who are clearly the best sports ever. We can't wait to see next year's crop of hairy fairies!
This article was originally published on