Experts Say 25-50% Of Those Infected With COVID-19 Never Show Symptoms
by Leah Groth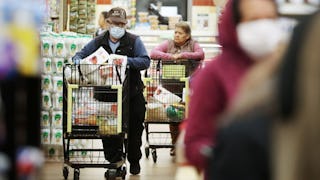 Mario Tama/Getty
Dr. Anthony Fauci claims that up to 50 percent of those infected with COVID-19 will never show symptoms
The narrative surrounding COVID-19 is constantly changing as new information about the highly infectious and deadly disease is revealed daily. At Sunday's White House coronavirus task force press conference, Dr. Anthony Fauci, the nation's leading infectious disease specialist, revealed that there is a good chance that many of those who are infected with the novel coronavirus, may never even know they have it. In fact, as many as half of people infected with the virus may not have any symptoms.
"It's somewhere between 25 and 50 percent," Dr. Fauci said, according to the New York Times, about the number of people who are asymptomatic. However, he did clarify that it was only an estimate, adding he and his peers are divided about those statistics, saying "the friends that we are, we differ about that."
The director of the Centers for Disease Control, Dr. Robert Redfield, estimates the number is on the lower end of Dr. Fauci's spectrum.
"This virus does have the ability to transmit far easier than flu. It's probably now about three times as infectious as flu," he explained during an interview with National Public Radio last week.
"One of the [pieces of] information that we have pretty much confirmed now is that a significant number of individuals that are infected actually remain asymptomatic. That may be as many as 25%. That's important, because now you have individuals that may not have any symptoms that can contribute to transmission, and we have learned that in fact they do contribute to transmission."
Additionally, he explained that those who do show symptoms are highly contagious "probably up to 48 hours" prior. "This helps explain how rapidly this virus continues to spread across the country, because we have asymptomatic transmitters and we have individuals who are transmitting 48 hours before they become symptomatic," he explains.
This is the main reason the CDC changed its guidelines last week recommending that all Americans wear a cloth face covering in public settings — including grocery stores and pharmacies — where the social distancing guidelines may be difficult to follow.
According to the most recent data, as of April 6, there have been more than 1.2 million confirmed cases and 72,995 deaths worldwide. In the United States alone there have been 357,000 cases of coronavirus with 10,000 deaths.
Information about COVID-19 is rapidly changing, and Scary Mommy is committed to providing the most recent data in our coverage. With news being updated so frequently, some of the information in this story may have changed after publication. For this reason, we are encouraging readers to use online resources from local public health departments, the Centers for Disease Control, and the World Health Organization to remain as informed as possible.