Halle Bailey Speaks Out After 'The Little Mermaid' Racist Casting Backlash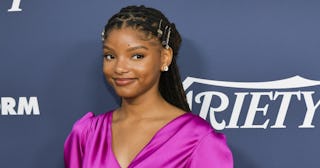 Rodin Eckenroth/Getty Images
Halle Bailey has spoken out since being cast as Ariel in the live-action "The Little Mermaid" remake
Last month when Disney announced that actress and singer Halle Bailey would play Ariel in the upcoming The Little Mermaid live-action reboot, what should have been a momentous occasion for the young actress was ruined by the internet's propensity to a) suck and b) be racist. Basically, a small — but vocal — group took to Twitter to boycott the news claiming that Ariel must be white because of something about the author of the original book being Danish? Regardless, the #NotMyAriel hashtag started to trend and Bailey kept to herself, until now.
The actress spoke to Variety at an event last night and her response to the casting backlash is elegant, professional, and poised — you know, all the qualities that Disney Princesses totally have.
"I feel like I'm dreaming," Bailey told Variety. "And I'm just grateful. I don't pay attention to the negativity; I just feel like this role is something bigger than me. And it's going to be beautiful. I'm just so excited to be a part of it."
Spoken like a true superstar. To quote the great Michelle Obama, "when they go low, we go high."
https://www.instagram.com/p/BzeAQCcgwQu/
After Bailey's casting news went viral, the #NotMyAriel crowd even started petitions to re-cast the role, but we're pretty sure that the uber-successful Disney corporation will be just fine without their patronage when the movie comes out.
On the bright side, most people were thrilled with Bailey's casting news, including Jodi Benson, who voiced the original Ariel.
"I think that the spirit of a character is what really matters," Benson said last month. "What you bring to the table in a character as far as their heart, and their spirit, is what really counts."
The Disney-owned cable channel Freeform had a more pointed response to the racist backlash and penned an open letter on Bailey's behalf.
"Yes. The original author of The Little Mermaid was Danish. Ariel…is a mermaid. She lives in an underwater kingdom in international waters and can legit swim wherever she wants," Freeform wrote. "The character of Ariel is a work of fiction. So after all this is said and done, and you still cannot get past the idea that choosing the incredible, sensational, highly-talented, gorgeous Halle Bailey is anything other than the INSPIRED casting that it is because she 'doesn't look like the cartoon one,' oh boy, do I have some news for you…about you."
If for some reason you still aren't convinced that Bailey is the right woman for the role, just listen to this video:
…and then imagine that voice singing "Part Of Your World." You're welcome.
This article was originally published on