Hallmark Brings Back Christmas Movie Marathon While We're All In Isolation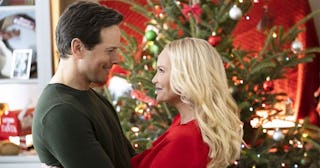 Crowne Media
In case you're in need of a little extra "cheer" right now, Hallmark's got your back
As we all slowly crawl out of what remains of our intact skin, Hallmark has given us all the off-season gift of something to do. While we all remain in self-isolation during the spread of the coronavirus, Hallmark is bringing back its Christmas movie marathon to soothe our cabin-fevered souls.
Starting tomorrow (Friday) at noon and continuing through Sunday evening at 6 p.m., the network will air 27 of its famous "Countdown to Christmas" movies. The weekend marathon comes to us after many fans expressed their desires to watch a lineup of feel-good movies to help us all pass the time and temporarily alleviate our brains from 24/7 pandemic coverage.
Hallmark will kick things off with Christmas in Rome starring Mean Girls' Lacey Chabert — which, given the state of things in Rome, was an interesting choice but hopefully just reminds everyone how wonderful Italy is and features lots of pretty sights and a tacky abundance of seasonal decor and sweaters.
Some people are extremely here for the Christmas cheer:
Others, however, were decidedly not as into it — which, also understandable.
https://twitter.com/jetpack/status/51240623951631380483
If nothing else, this is a better bout of PR for Hallmark than when they decided to not air a commercial featuring a same-sex couple, got a ton of backlash for it (rightly so), and then backtracked by re-airing the commercial in question.
"Our mission is rooted in helping all people connect, celebrate traditions, and be inspired to capture meaningful moments in their lives," Hallmark CEO Mike Perry said at the time. "Anything that detracts from this purpose is not who we are. We are truly sorry for the hurt and disappointment this has caused."
Well now that we're all connected through a national health crisis, here's hoping Hallmark sticks to their motto and remembers that we all need and deserve a little cheesy escapism.
Now grab whatever you can from your pantry (no hoarding!!!) and continue curling up on the couch this weekend.
This article was originally published on