There's An App To Make Sure You See Every Single Hallmark Holiday Movie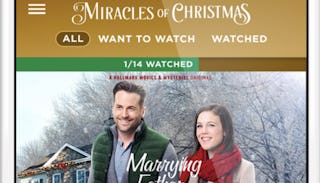 Image via Hallmark
You won't miss a single Hallmark movie this holiday season thanks to this new app
Holidays are all about spending time with loved ones, listening to "Let It Snow" one million times, and watching every single Hallmark holiday movie whilst eating multiple tubs of ice cream. This year, there are a staggering thirty-seven new Hallmark titles to choose from which is both thrilling and overwhelming. How will we keep up with so much (lovable) cheesiness?
Don't worry, there's an app for that.
Hallmark's Countdown to Christmas Movie Checklist App allows you to find premiere dates and times of every single movie, along with cast details and trailers. You can also set an alert so that your phone reminds you when to tune in (because none of us are trying to miss ONE SECOND of all that cotton candy Hallmark goodness).
The app is free and available for download at Google Play, which means you should probably download it ASAP. There's just so many small town romances with former high school boyfriends turned nemesis turned lovers again.
Need a little convincing about getting on the Hallmark holiday bandwagon? Here's a few gems that you could be watching, while snuggled up under all the blankets.
There's Reunited At Christmas, which tells the story of a family who decides to follow of their Nana's Christmas wishes after she dies. Will you cry despite really, really not wanting to? Yup, we think so.
Then, there's Christmas At The Palace, which involves a king, a holiday skating pageant, and a lot of dreamy British accents.
Not to be outdone in the romance department, Pride, Prejudice, and Mistletoe features a woman coming back home for the holidays and striking up a new relationship with her old rival. Also it stars Lacey Chabert aka Gretchen Wieners and I will go anywhere she's going.
Also, we've got Christmas Everlasting, a movie about a woman who returns home after her sister dies and finds herself again (along with a cute suitor).
I guess the moral of this story is that we should all probably watch 37 Hallmark movies this holiday season. And when we're done with that, let's move to a small town covered in snow and date our old high school classmate who we HATED but also secretly loved and then buy a quaint shop in town and live happily ever after. It'll be the most joyous of holidays.