Someone Ranked Types Of Halloween Candy From Best To Worst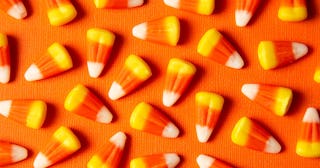 pamela_d_mcadams/Getty
There's an official Halloween candy ranking and we bet you can guess which candy people hate the most
When it comes to Halloween candy, everyone has opinions — and lots of them. Which candy is objectively the best? Which one is the worst, destined to stay in the bottom of the Jack-o-Lantern bucket until it's old and stale and you finally throw it out when you switch over to Christmas decorations in December? Well, we finally have those answers.
More than 30,000 users on Candy.com answered a survey that asked them to rank Halloween candy from best to worst. Those survey results were combined with some outside sources of candy information, including 12 lists of the best and worst candy from some of the internet's most reputable websites. In other words, this study was very scientific and thorough, creating what we think is a pretty official ranking.
So here they are. The official Halloween candy rankings.
The top spot comes as no surprise to me, a certified peanut butter fiend. It's Reese's Peanut Butter Cups, a candy we can all agree is absolutely delicious even if it's not your favorite. That's a No. 1 ranking that is well deserved.
Reeses were followed at the top of the list by Snickers, Twix, Kit Kat, and M&M's to round out the top. Overall? Pretty solid. There's nothing here that we would fight too hard.
But then we get to the rankings for the worst Halloween candy, and this is where things start to get heated. There's one candy that's pretty controversial, so we bet we can guess what it is — and why it took the spot for the most-hated treat on this list. But it also has some die-hard fans out there, and they'll defend these waxy little nuggets of gross to the death, for some reason.
Yep, it's candy corn. The most-hated Halloween candy of 2019 is candy corn.
Obviously, this is deeply contested online. There are people who fall on both sides of the fence, proving only one thing: Candy corn divides us as much as Reese's Peanut Butter Cups bring us together.
The rest of the bottom of the list shouldn't be nearly as controversial — Circus Peanuts, Peanut Butter Kisses, Wax Coke Bottles, and Necco Wafers round out the top five most-hated Halloween candies, and, um, for good reason. Has anyone ever eaten a Circus Peanut and enjoyed it? At least this we can all agree on, even as candy corn divides us.