Staying In This Halloween? Here Are 16 Streaming Movies For A Halloween Movie Night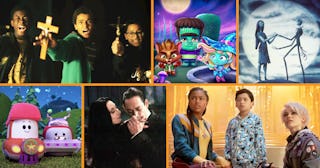 Orion/Getty, Sunset Boulevard/Corbis/Getty and Netflix
Halloween is going to look different for many of us this year. Trick-or-treating is on hold for a lot of us, but what else is there to do? What about having a Halloween movie night? You can dress up, eat all of your favorite candy and/or popcorn and watch a film or two. If you've cut the cord on cable, that doesn't mean you're out of luck on finding something to watch. Streaming services have plenty of Halloween programming. And there's something for everyone –from your toddler to your teen. Here are 16 of the best Halloween programs from Netflix, Hulu and Disney+.
Netflix
This adorable Halloween movie special is perfect for the preschooler in the house. This is more of a special episode than a movie, which is perfect for little attention spans. Cory, Chrissie and Freddie are hunting for king-size candy bars (who isn't?). The question is: are they worth traveling to the spooky side of town for? Obviously, the answer is yes.
The Super Monsters are back in yet another Halloween movie special. This time, they accompany Vida to her hometown, Ciudad Monstruo. It's time to celebrate Dia de los Muertos, and Vida is excited to introduce her new monster friends to her fantastical friends. To learn more about Dia de los Muertos, you can also watch Super Monsters: Vida's First Halloween.
Based on the popular book series, amateur babysitter Kelly must fight a world of monsters to get back the young boy she is babysitting. But what she doesn't expect is that there's an entire underground society of kid protecting babysitters. Series author Joe Ballarini wrote the screenplay, and Tom Felton stars as the evil Grand Guignol.
Not only are there literal vampires moving into the Bronx, but they're coming to take over the neighborhood. In this commentary on the gentrification of New York City, a group of mostly Latinx and Black kids fight to save their neighborhood from forces they can (and can't) control. Bonus? Method Man as a priest.
Anjelica Huston stars in this '90s dark fantasy comedy. Based on the Roald Dahl novel of the same name, The Witches is the story of a young boy who defeats a group of witches who want to turn the children of the world into mice. Many of us were likely traumatized by the scene where Anjelica Huston is revealed in her witch form. And bonus! If you have HBO Max, an updated version starring Anne Hathaway is coming just in time for Halloween viewing.
This Halloween movie special from the silly book series has best friends Harold and George creating their own brand new spooky holiday. And what's more, it's a huge success.
Hulu
They're creepy and they're kooky! This '90s classic based on the '60s TV show isn't necessarily a Halloween movie, but it's a perfect thing to watch anyway. The Addams family, lead by Gomez (Raul Julia) and Morticia (Anjelica Huston) are peculiar, especially when you see them against so-called "normal" society. The film also stars Christina Ricci as their macabre daughter Wednesday, and Christopher Lloyd as Uncle Fester.
Everyone's favorite precocious monkey has his very own Halloween movie special. George and the Man with the Yellow Hat are spending Halloween in the country. There, he learns about the tale of No Noggin, a hat kicking scarecrow who haunts the countryside. He wants to find out the truth, but he also needs to find his perfect Halloween costume. What's a monkey to do? (FYI, this is also available on Amazon Prime Video or airing on PBS Kids)
What '90s girl didn't love an Olsen twins movie? This Halloween movie saw icons Mary-Kate and Ashley as two little girls who need to harness their twin power to save their great aunt from a life in the netherworld. It really is a shame those two don't act anymore.
Disney+
Who doesn't love this Halloween movie classic? Now, you can watch it whenever you want and not have to wait for the 31 Days of Halloween. This is a perfect family movie, because every generation needs to have a crush on Thackery Binx. Plus, the Sanderson sisters are the perfect witches. If you're like me, you're going to watch it at least once without the kids to truly enjoy it.
Jack Skellington is a Halloween movie icon. Tim Burton's classic holiday crossover film is a staple for viewing between Halloween and Christmas. It may not be great for super little ones, but if you have elementary school aged kids, it's perfect. Plus the songs are so unbelievably catchy even all these years later.
If you've ever been to a Disney theme park, you likely are familiar with the Haunted Mansion ride. In the 2003 film, Eddie Murphy stars as a realtor who inadvertently takes his family to a haunted mansion. There are ghosts, talking heads, and It's a little scary, but mostly fun.
This is a good one for the teens in the house. We love the star-crossed lovers trope, and you can't get much better than this. A zombie football player falls in love with a mortal cheerleader. And they have to get their respective groups to co-exist? You don't really need teens to watch this. Because this is the stuff every 90s teen show was made from. Plus, there's also a sequel!
You can't get much more classic than these Halloween movie DCOMs. Who doesn't want to live in Halloweentown, even all these years later? I must admit, it's kind of bittersweet seeing Debbie Reynolds on screen, but witches are immortal, aren't they?
The Legend of Sleepy Hollow, but make it family friendly. Many of us will likely remember watching this animated tale of lanky school teach Ichabod Crane growing up. It's the perfect balance of spooky and kid friendly thanks to Bing Crosby's smooth voice. If we're being honest, the Headless Horseman still freaks me out.
And As A Bonus …
Fun Size isn't on Netflix, Hulu or Disney+. But it's on Amazon, and you've got to check it out. This fun Halloween movie starring Victoria Justice has the trappings of a great teen movie but is great for the whole family. A teen girl's Halloween night goes awry when she loses her little brother while trick-or-treating. So now she has to team up with her friends to find him before their moms notices he's missing.
Happy watching!
This article was originally published on