Halsey Has Given Birth And The Photos Of Their Family Are Precious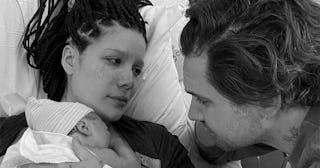 halsey/Instagram
Halsey has welcomed their first child with boyfriend Alev Aydin, and the couple's first family photos are truly precious
Congratulations are officially in order for Halsey, because the singer has welcomed their first child with boyfriend Alev Aydin. The singer shared two stunning shots during the earliest moments as a family of three, revealing their new little one's name and birthday in the caption of their post.
"Gratitude," they wrote. "For the most "rare" and euphoric birth. Powered by love," adding that their baby was born on Wednesday, July 14, and is named Ender Ridley Aydin. The new mama shared a shot cradling baby Ender alongside Alev, and a close-up shot of their infant's adorably tiny hand latched during nursing.
Halsey was sure to tag the team members who helped bring Ender into the world safely, including Dr. Thaïs Aliabadi and Dr. Steve Rad, their physician/OB-GYNs at Cedars Sinai Medical Center in Los Angeles; Miranda Ripper, their labor and delivery nurse; Dr. Elliot Berlin, their prenatal chiropractor; yoga instructor Rony Ghoraishy; and Bundle Birth, a birth coaching service.
Before and throughout their pregnancy, Halsey was open about their experiences, including sharing their struggles with endometriosis and a miscarriage prior to conceiving their rainbow baby late last year. Just two weeks ago, they shared that their forthcoming album cover and contents would be in celebration of "the joys and horrors of pregnancy and childbirth," with Halsey writing on Instagram, "It was very important to me that the cover art conveyed the sentiment of my journey over the past few months."
"The dichotomy of the Madonna and the Whore," they continued. "The idea that me as a sexual being and my body as a vessel and gift to my child are two concepts that can co-exist peacefully and powerfully. My body has belonged to the world in many different ways the past few years, and this image is my means of reclaiming my autonomy and establishing my pride and strength as a life force for my human being."
Congratulations and well wishes quickly poured in from fans and Halsey's famous friends alike, including from Demi Lovato, Olivia Rodrigo, Ruby Rose, and more. Based on these absolutely beautiful first family photos, it seems the couple is already in love with their new bundle of joy. Here's hoping Halsey and baby are doing well and feeling great and settling in to life as a family of three.