Halsey Posts Sweetest New Photos Of Baby Ender
by Christina Marfice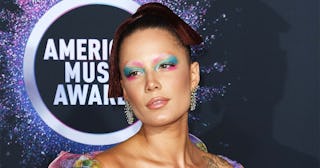 MARK RALSTON/AFP/Getty
Halsey celebrated their birthday by giving all of us a gift: Two absolutely precious pics of baby Ender
Happy birthday to Halsey! The singer turns 27 years old today and has plenty of reasons to celebrate: A career that's absolutely taking off, music that's changing the industry, and a new baby who is almost too cute for words. And to mark the big day, Halsey took to Instagram to give all of us a gift for their birthday: two new photos of baby Ender.
In the pics, Ender is wearing a yellow, red, and blue color-blocked outfit with a blue hat and socks, smiling cheekily at the camera. Although Ender was born in July, it feels almost like we're meeting this little one for the first time, because Halsey has been pretty careful not to show the baby's face on social media up until now. We get why she'd want to keep those perfect, chubby cheeks all to herself — they're so adorably pinchable! And that sweet little baby smile. Ugh, excuse us, we need a minute to just take this in and calm the ovaries.
Halsey captioned the post, "The best birthday gift there is," and we absolutely have to agree. If there's anything worth celebrating, it's a new baby and a sweet family starting to grow. This has to be a pretty good birthday for them, and we hope Halsey and their entire family have a great day celebrating.
Halsey has been pretty open on social media about her struggles and triumphs while transitioning into motherhood for the first time with baby Ender's birth. They recently made headlines for declining to attend the Met Gala because they're still breastfeeding, which is a #relatable situation for just about any mom (the baby-feeding part, not the Met Gala). In fact, breastfeeding is something Halsey has been very passionate about since becoming a mother, sharing photos, feeding her sweet baby wherever she needs to, and speaking out about how breastfeeding — whether in public or private — needs to become a more normalized part of existing in our society. The singer also used their most recent album to send a powerful message about both breastfeeding and postpartum bodies, two topics that can also use more discussion and care.
Here's hoping that Halsey has a fantastic birthday today, their first as a momma, filled with cuddles from Ender and the rest of their sweet family, and all the joy she deserves on such a special day.