Halsey Announces Rainbow Baby With Beautiful Bump Photos
by Valerie Williams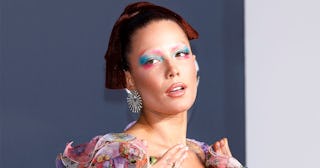 Kurt Krieger/Corbis/Corbis/Getty
Singer Halsey is expecting a baby and shared sweet photos of her bump on Instagram
Singer Halsey has shared the very happy news that she's expecting a baby by posting adorable bump photos on Instagram. She's opened up in the past about having a miscarriage and dealing with a diagnosis of endometriosis.
Halsey tagged screenwriter Alev Aydin in the photos, taken by photographer Sam Dameshek. Aydin commented, "heart so full, I love you, sweetness" to which Halsey replied, "I love you!!!!! And I love this mini human already!"
The singer also took to Twitter writing simply, "my rainbow." A "rainbow" baby is a child born after a previous pregnancy loss.
In 2018, Halsey opened up about experiencing a miscarriage while on-stage performing. "Before I could really figure out what [the pregnancy] meant to me and what that meant for my future, for my career, for my life, for my relationship, the next thing I knew I was on stage miscarrying in the middle of my concert," the singer said during an appearance on The Doctors. "And the sensation of looking a couple hundred teenagers in the face while you're bleeding through your clothes and still having to do the show, and realizing in that moment that I never want to make that choice ever again of doing what I love or not being able to because of this disease."
She shared that as a result of that miscarriage and an endometriosis diagnosis, she made the decision to freeze her eggs. "Reproductive illness is so frustrating because it can really make you feel like less of a woman," she said at the time. "There's a lot of times when you're sitting at home and you just feel so terrible about yourself. You're sick, you don't feel sexy, you don't feel proud, you don't feel like there's much hope." She further shared the reactions when she explained her choice. "When I tell people that, they're like, '"You're 23, why do you need to do that? Why do you need to freeze your eggs?'"
Not that Halsey owed anyone an explanation, but by speaking out, she's undoubtedly helping other women grappling with the same situation. Bravo to Halsey for her courage and congratulations on her sweet rainbow baby.