Lin-Manuel Miranda Announces Official Date For 'Hamilton' Movie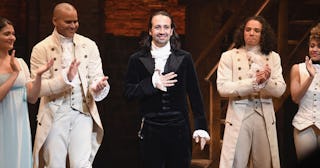 Nicholas Hunt/Getty
Have your calendar at the ready, because Hamilton the musical film has a release date
We're not sure who to thank first: the musical gods, the movie gods, or the god that is Lin-Manuel Miranda. But suffice it to say we're sending our gratitude out into the universe today. Why? Hamilton the musical film will be coming to the big screen next year, and we now know the official date it will be hitting theaters.
ICYMI (inexplicably), Hamilton almost immediately became a full-blown pop culture phenomenon when it debuted on the Broadway stage back in 2015. The story of Alexander Hamilton, the play was loosely based on Ron Chernow's biography Alexander Hamilton. However, Miranda — who portrayed the eponymous character in the play — took the original story of Hamilton and turned it into a musical, creating music and lyrics to bring the Founding Father back to life on stage.
So, it's only fitting that Miranda was the one to announce that the release date of the screen version is… next fall! Taking to social media, Miranda wrote, "Disney presents: Hamilton. With The Original Broadway Cast. Filmed onstage at The Richard Rodgers Theatre. In a Theatre Near You. October 15, 2021."
There are clearly a few things to unpack here. And by unpack, we obviously mean celebrate. First, Miranda mentions that the movie version of the play will include the original Broadway cast. This is huge for those of us who couldn't make it to see the iconic production in those initial throes of fanfaredom. Since most of the OG cast left in 2016, we've had to endure for years now the entitled prattling of our smarmy friends who did see Miranda and the rest of that cast perform.
Miranda alluded to this very motivation when he initially teased the release of the Hamilton movie. "You all have that friend who brags, 'I saw that with the original cast.' We're stealing that brag from everyone. You're all gonna see it with the original cast," he revealed last week.
That means we'll all get to see Miranda as Alexander Hamilton, Leslie Odom Jr. as Aaron Burr, Phillipa Soo as Eliza Hamilton, Jonathan Groff as King George III and Daveed Diggs as Marquis de Lafayette/Thomas Jefferson, and Renée Elise Goldsberry as Angelica Schuyler. Also featured in the play were Christopher Jackson, Okieriete Onaodowan, Anthony Ramos, and Jasmine Cephas Jones.
Another point to address is that the movie was "filmed onstage at the Richard Rodgers Theatre." According to Miranda, footage from recorded stage performances during its first year comprise the new film. So, it won't be an entirely new adaptation, which we're personally thrilled about. Adaptations are notoriously hit-or-miss.
In a press release, Miranda (who's also co-producing the movie) explained, "I fell in love with musical storytelling growing up with the legendary Howard Ashman-Alan Menken Disney collaborations: The Little Mermaid, Beauty and the Beast, Aladdin. I'm so proud of what [director] Tommy Kail has been able to capture in this filmed version of Hamilton — a live theatrical experience that feels just as immediate in your local movie theater. We're excited to partner with Disney to bring the original Broadway company of Hamilton to the largest audience possible."
And finally, can we just take one more minute to revel in the fact that this will take place next fall? We don't want to rush through this year, but we'd be lying if we said we weren't already super-stoked about 2021.