Hannah Brown Opens Up About 'Struggling' Post-Bachelorette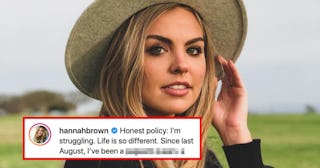 Hannah Brown/Instagram
Bachelorette star, Hannah Brown, had a whirlwind year and says she's been struggling in her latest Instagram post
Hannah Brown, the latest Bachelorette to hand out a final rose, dropped some serious truth-bombs on her Instagram on Monday. Following the end of Hannah's season, she admits she's "struggling" and that post-Bachelorette life is, er, not all roses.
Brown posted a beautiful photo of herself on a Los Angeles beach, looking as shiny and shimmery as ever (she really did love her some sparkles this season). But it's her words, specifically her words about how tough it's been to be a woman of faith who also had sex on the show, that make the biggest impression.
"My faith has been questioned by thousands who don't know my heart, and my transparency with my decisions has labeled me promiscuous. Simultaneously, I've become a role model for young women and started bigger conversations around faith, and sex," she wrote.
It's well-known that most Bachelors and Bachelorettes do have sex on the fantasy suite dates. But when Hannah shared on the show that she had sex in a windmill, she opened herself up to criticism, mainly, because she also spoke openly about being religious.
But that does not, I repeat DOES NOT mean Hannah deserves to be slut-shamed. She railed against that narrative while on the show, telling Luke P., "I have had sex and Jesus still loves me." Now, it seems like she's going to continue doing the same in her life off-camera. It's a beautiful thing to see because like she said, she's a role-model now and teaching girls that their bodies and their choices are their own is a healthy outlook.
It's no wonder she's getting lots of support from fans.
Hannah is totally owning that strength, too, and growing from it. Like the badass she is. "This woman who has emerged would shock the mirror-image young girl from a year ago," she wrote in her post.
Could we possibly love her more?
It's no huge surprise that Hannah is owning every part of this experience and getting down with the honest words. She did that all season and while it produced some explosive TV moments, it was also hella refreshing. Yes, oftentimes it meant she raged at the dudes (which they totally deserved) and her face got red as a tomato. But it was all in the spirit of honesty.
Typically, we see reality stars go on to use their social media to become influencers. Hannah has said she's probably not going to do that, but seeing her use her platform to just keep it real is totally refreshing. It also makes you wonder how future Bachelorettes, whether religious or not, will continue conversations around faith and sex.
Hannah has definitely had some mountains to climb over the past year. She has gotten her heartbroken more than once on TV. Then, just when we all thought she was moving on with runner-up Tyler, he was spotted around town with Gigi Hadid. Not cool, bro. Not cool.
But aside from adjusting to life post-reality TV, we're placing our bets that Hannah Brown is gonna be A-okay. This woman is ever-so-honest and fierce and we can't help but love her for it.
Here's hoping Hannah keeps on keeping it real. We'll definitely be rooting for her.