Mom Writes One Last Letter To Her Daughter Before Dying And Has The Internet In Tears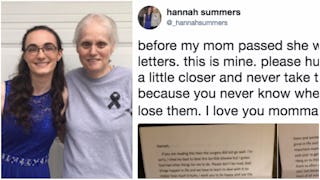 Image via Hannah Summers/Twitter
A dying mom shares her last pieces of advice in a loving letter to her daughter
Before she passed away after a lengthy battle with cancer, one girl's mother wrote her daughter a letter full of advice and motherly wisdom. Hannah Summers' mom, Peggy, succumbed to cancer earlier this week, but in her grief she decided to share her mom's final words to her.
The letter was clearly written to offer some comfort and love to Hannah in the aftermath of losing her mom, and after Hannah shared it to her Twitter account, many people came forward to tell her how deeply it touched them.
Peggy wrote to each of her children before she died. Here is Hannah's touching letter in its entirety:
"Hannah,
If you are reading this, then the surgery did not go well. I'm sorry, I tried my best to beat this terrible disease but I guess God had other things for me to do. Please don't be mad, bad things happen in life and we have to learn to deal wit it no matter how much it hurts. I want you to be happy and use the gifts God has given you.
You will be a wonderful nurse just as you are a wonderful person. Study hard in school, don't worry about a job. If you want to work in the summer fine but you need to really concentrate on school. Be patient with Dad, this is going to be hard on him and he will need time. You both need to lean on each other and talk a lot which is not one of our strong points, but try and don't give up. Remember you have a lot of people who love you so talk to them often.
Use your common sense about things like not going anywhere by yourself and having an emergency kit in your car in the winter. If you can carpool to school do it, stay away from parties because they are usually bad, not all boys are bad but most will tell you anything to try to get you to do things, try to hang out with people who have the same beliefs as you because they will make you stronger.
Remember that I am still with you and still just as proud of you as I always have been. Keep God in your life and never be ashamed to let others know you love God. If you have kids someday, make sure they know how much I love them and wanted to be there to see them.
You are going to do great in life and I will be smiling with you through all the important moments in your life. I am thankful God gave us this past year to get closer and spend a lot of quality time together. Hang onto those good memories and tell everyone you love them as often as you can. Enjoy life and live each day as if it's your last because none of us know if today will be the last. And most of all remember that I Love You more than you will ever know!
Mom"
If you're quietly sobbing into the sleeve of your shirt, you're not alone. Hannah's mother's words of wisdom resonated with a lot of people.
https://twitter.com/jetpack/status/926245979447332864
https://twitter.com/jetpack/status/926011799933243392
https://twitter.com/jetpack/status/926083870880964610
https://twitter.com/jetpack/status/926285416289910784
Hannah says the kind words from strangers all over the internet are helping her cope.
Having those last words of wisdom and love from her mom is something Hannah will undoubtedly cherish for the rest of her life. The letters Hannah and her sisters received are such a gift — even to strangers. We hope Peggy's family and loved ones find comfort and strength in the messages she left behind.