This Happy Dog Is All Of Us At Target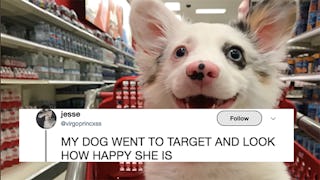 Image via Twitter/@virgoprincxss
The Target dog just got some major competition.
You know that feeling of pure wonder when you first walk into Target, cart in hand, not yet an exhausted, angry mess from the shopping trip ahead of you? Well, literally all of those emotions were captured in the face of one very cute, very small dog named Zira — and the pictures will make you want to hug your computer screen.
Zira, a four-month-old Corgi/Mini Aussie mix, accompanied her owner Jesse on a recent trip to our favorite store, and was pretty much in pure, unadulterated doggie heaven (because, natch). Jesse took to Facebook and Twitter to share snapshots of her dog riding around in a shopping cart, grinning and straight up gasping with joy.
"While we were turning a corner, this woman shopping saw her and freaked out! She couldn't stop going on and on about how cute Zira was," Jesse wrote. "Zira just started licking her, and the woman loved it. She even picked Zira up and let her kiss her face!… Just another day of Zira spreading love and joy to the world… She loves meeting new people and getting attention!"
Annnnnd attention she got. Lots and lots of it. Jesse's Twitter post has been liked a whopping 500,000 times, received more that 100,000 retweets, and racked up thousands and thousands of comments. All of this excitement is probably because A) Zira is literally all of us at Target and B) she looks exactly like Bullseye, the Target dog. No, seriously. It's uncanny.
It's just a lot of adorableness to process.
Possibly the best thing that came out of all of this (aside from getting to ogle the happiest dog in the world), is the fact that Zira's trip to Target prompted other Twitter users to share pictures of their pets riding around in shopping carts. Who knew that pictures of animals in shopping carts would be the best thing to ever happen to the internet? I would like more. So, so much more.
https://twitter.com/jetpack/status/948775856696123392https://twitter.com/jetpack/status/864611164633800704
Here's to animals riding around in shopping carts, making the world a happier place. Also, so many snaps to Zira, for being the most relatable animal on the internet today.
This article was originally published on