Harry And Meghan Make First Post-Honeymoon Appearance -- And They're Adorable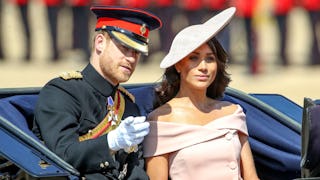 Image via Mike Marsland/WireImage
Harry and Meghan attend Trooping the Colour by horse-drawn carriage
It's no secret Prince Harry and Meghan Markle — ahem, the Duke and Duchess of Sussex, respectively — adore each other. They're everyone's favorite embodiment of a modern fairytale, and you need look no further for verification of their dreaminess than these photos of the two attending the Queen's birthday parade.
Trooping the Colour is a royal tradition that publicly honors the Queen's birthday via parade. A full-on ceremony performed by regiments of the British and Commonwealth armies, Trooping the Colour has been a longstanding tradition since the 17th century.
And while it's amazing that Queen Elizabeth is 92 years old and still reigning over Britain, let's be honest — we're really here for the Harry and Meghan pics. Without further ado, please prepare to sigh over everyone's favorite newlyweds.
If there are two more beautiful, in-love people on this earth, I have yet to witness it. She is literally glowing. (Duchesses don't sweat, they glow, I looked it up.)
I mean, they're adorable together but can we just take a minute here and talk about Meghan? Oh my. Personally I think her confidence just enhances her beauty — I would be a barrel full of upper lip sweat and shaking knees. But not Meghan, no siree.
Back to business.Over 1400 parading soldiers, 200 horses and 400 musicians came together for the event — but more importantly, Harry and Meghan partook in another carriage ride. (Not to downplay the importance of Her Majesty, but it's not every day we get to watch attractive young royal lovers ride in a horse-drawn carriage.)
Of course, this being a huge royal event, our other favorite duchess was in attendance — also looking quite dreamy herself.
Pastels! Hats! Incredibly well-tailored day dresses! This is the kind of content we deserve if we also have to live through our current news cycle every day.
If you're wondering where Prince William is in all of this, don't worry — he was actually in the parade.
There he is, on the left, riding alongside his uncle Andrew and donning a rather hot-looking but very official hat. Helmet? Fur-hat? Muff-met? (Google tells me this is called a 'bearskin hat.' I prefer Muff-met.)
Just look how proud the birthday girl is of her eldest grandson.
She may be the Queen (and if you've ever watched The Crown, you know she's not one to be trifled with). But she's still a grandma.
Though our hearts have barely recovered from the loveliest wedding in modern history, let's sigh once more over our favorite ginger prince and his breathtaking wife.
Harry + Meghan FOREVER.
This article was originally published on