There's A Harry Potter Advent Calendar With 24 Mini Figurines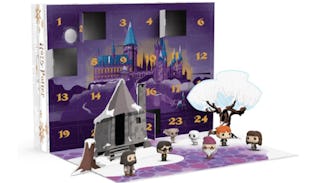 Image via Funko
Each day is stuffed with a different Potter character, 24 in all
Hold on to your wizard hats, it's going to be the hap-hap-happpiest of Christmases for Harry Potter fans because Funko is releasing a Harry Potter advent calendar just in time for the holidays. Of course, no advent calendar is worth its weight if it's not stuffed floor to ceiling with chocolate, but we'll make an exception because this one's filled with 24 tiny Potter figurines.
RELATED: 22 Adult Advent Calendars, Because Why Should Kids Get All The Fun?
According to Funko's site, the calendar is stuffed with "the Wizarding World's favorite witches, wizards, beasts, ghosts and house elves." they write. "This Harry Potter advent calendar promises a very jolly Christmas indeed, especially when paired with treacle tart and a mug of hot Butterbeer."
From the looks of things, Harry, Ron and Hermione made the cut (Hermione's figure even comes with her own time turner, because dreams really do come true), along with Harry, Dumbledore, Hagrid, and house elf Dobby. Even Harry's owl Hedwig seems to have made the cut by looking at the promo pics for the calendar, but the rest are being kept under tight wraps. The series has over 200 characters so it's anyone's guess, but it's sure to be the highlight of each morning finding out.
This is definitely the season to be a Potter fan. There are sweary Potter wine glasses, matching family pajama sets, melting sorting hat candles that tell which Hogwart's house you're in, and even adorable kitchen spoons guaranteed to mix up some magic in the kitchen.
There's no set date for the calendar's arrival so we'll all just sit around twiddling our enchanted coins, marking each day off our regular old calendars until the day arrives. There's also no price listed on Funko's site, but give most of the mini Funko figurines sell for $5 to $6 online, so it will likely be more than the chocolate variety. Regardless, it's obviously worth it — I don't care how old you are, you'll never be too old for teeny tiny treasures hidden behind teeny tiny doors.
Anyone wanting to get their Muggles on one of these puppies should order as soon as possible. Target's Harry Potter 12 Days Of Socks sock calendar sold out in record time and you don't want to miss being the envy of all your neighbors and kid's friends.
Regardless of whether you like Harry Potter or not (but seriously, who doesn't?) the advent calendar announcement is just one more sign that the holidays are on their way and that's something we can all get behind.
This article was originally published on