You've Got To See This Dad's Harry Potter-Inspired 'Cupboard Under The Stairs'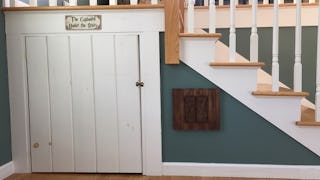 Image via Peter Fragola
These kids have a jealousy-inducing Harry Potter-themed hideout
There's something about reading a good book that makes it go really well with having a small, cozy space to curl up in while you do it. That's why we're so jealous of Jackson and Oliver, a pair of little boys whose dad built them the ultimate reading nook: a Harry Potter-themed space in a literal cupboard under the stairs.
Dad Peter Fragola, who runs a blog called Sorry Son(s): Chronicles of a New Dad, was inspired when he and his family moved into a new home that already came equipped with the Potter-esque under-stairs storage space.
"Immediately I knew I would have some pretty big plans to carry out," Fragola wrote on his blog. "As an elementary school principal and former teacher I know how important it is for children to have a space of their own to read and do school work, and a space where they feel comfortable. Clearly I took my inspiration from the famous cupboard where Harry Potter spent most of his childhood."
With grafitti-covered walls and exposed wooden support beams, it wasn't the most inviting space.
But that didn't stop Fragola from dreaming of transforming it into a cozy hideout for his two boys. So he gathered supplies, and after about two weeks of work, voila! Jackson and Oliver had a perfect little reading spot. Seriously, check this place out.
We need these throw pillows.
And the blanket.
"Jackson, my eldest, asks to sleep in there every night," Fragola tells Scary Mommy. "When he was sick this weekend he asked to go in there and nap because it would make him feel better!"
Can we blame him?
Fragola started with the color scheme for the space: Gryffindor red and gold, of course. On the stairs, he painted some of his favorite quotes from the Harry Potter series to inspire his boys to "have fun, work hard, and stay true and honest," he wrote.
For the walls, "Daily Prophet front pages provided a perfect way to feel the ups and downs of the seven books… from Harry Potter winning the Tri-Wizard Tournament to The Dark Lord Returning," he wrote. "These front page newspaper headlines did just that!" After the custom Daily Prophet posters were applied, Fragola decided to "seal the walls in case sticky little toddler fingers sneak in a snack at some point!"
Fragola then added a window at Jackson's request, decorating it on the outside of the stairs with a window shutter picture frame, and painting the wall inside the closet with a brick pattern, just like in Diagon Alley.
Then, he had to figure out a way to protect little heads from the nails and staples in the ceiling, which was accomplished with an amazing set of Harry Potter sheets found at a thrift store. Some carpet completed the coziness.
Fragola finished the nook with some details, like a Gryffindor scarf pinned to the wall, a stuffed Hedwig and a Harry Potter bobblehead.
It's great that his sons have this painfully cute spot to curl up and do some reading. There's just one thing left that it needs: Accio hot chocolate!
This article was originally published on