Perfect Harry Potter Gifts For Little Muggles Or Aspiring Wizards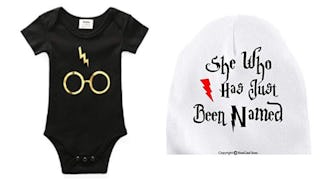 Image via Amazon
These are the most bewitchingly cute Harry Potter gifts on Amazon
Halloween is just around the corner which means it's officially time to embrace all things magical, bewitching, and oh so whimsical. And what better way to do that than taking one more ride on the Hogwarts Express? Amazon is selling a whole plethora of extremely cute Harry Potter-themed products for your little muggles at home. Be still my Hufflepuff heart.
Classes are back in full swing at Hogwarts, which means your newborn should probably start gearing up for their acceptance letters to arrive. Professor Mcgonagall would definitely approve of this romper.
Winter is just around the corner and it's starting to get a little nippy. Your tiny muggle should definitely cozy up in this Harry Potter outfit, complete with Gryffindor colors (you might as well get them sorted early).
This one is surprisingly chic for a baby romper. Accio so, so much cuteness.
Why yes, there is a teensy tiny Gryffindor scarf available for your baby. I said it once and I'll say it again, it's better to get them sorted early (we don't want a Slytherin situation happening).
Okay, let's file this under one of the more clever Potter wordplays. Also, the hat was made specifically for newborns, is super soft, and guarantees that your kid will be a loyal HP fan for life. Sorry, Voldemort.
If your baby is going to get food all over the place, they might as well make a mess on this very adorable "Accio Spoon" bib. Mischief managed, indeed.
Bath time just got so much more magical with this HP hooded towel. If you buy this, then you probably (definitely) should read the books out loud while sudsing your kid's hair. Fake British accent required.
Okay, so your newborn might not be old enough to appreciate the joys of Harry Potter but that doesn't mean their crib shouldn't have a touch of Hogwarts magic to it. This baby blanket features lots of textured ribbons, fleece, and a stuffed Hedwig (R.I.P).
If at some point you would also like a similar blanket for your own room, so be it.
Here's to a happy, Harry Potter-filled Halloween. We muggles really know how to do it right.
We are a participant in the Amazon Services LLC Associates Program and may earn fees by linking to Amazon.com and affiliated sites.
This article was originally published on