Williams Sonoma Has A Harry Potter Line So Say Goodbye To Your Galleons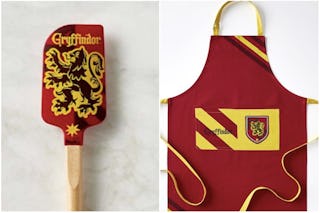 Images via Williams Sonoma
The perfect excuse to bake a treacle tart
There's a ton of awesome Harry Potter-themed merchandise for adults out there, but let's get real — "collectible" is just code for another thing the kids will cart off to the toy box/break on us. That's why Williams Sonoma's new line of Hogwarts' themed kitchen tools is pretty awesome.
Dinner needs making on the daily, which means you'll actually use this stuff instead of watching it gather dust on a shelf that you tell yourself you'll clean every weekend but never actually get to. Model wands and robes are fun, but these house-themed spatulas and aprons are functional, too. Hermione would be proud.
The spatulas run $13 a pop, which is pretty good considering they're created with BPA free silicone. The handle's made of beech wood, but sadly there's no unicorn hair core inside that will help us magically make the dishes wash themselves.
Perfect for whipping up some bouillabaisse. Or boxed mac and cheese.
The back of the spatulas all feature the outline of a golden snitch, so you can ponder the ridiculousness of Quidditch's scoring rules while you're cooking. (10 points for the quaffle but 150 points for the snitch? We love you J.K., but come on.)
You can channel your inner Mrs. Weasley with a Gryffindor apron.
Or if your kids are the type that approach every meal as if you're trying to poison them, lean into your role as a Slytherin.
The aprons are $39.95, and for an additional $10, you can add your name or initials. Though if I'm springing for extra thread it's going to say Mrs. Snape.
Wands down Hufflepuffs, we didn't forget you.
For $24.95 there's a kid-sized version of each apron available so your little Potterheads can pass the time making pumpkin pasties while they wait for their Hogwarts letter to come. The kid aprons have velcro instead of strings, proving once and for all that wizards really are magic.
These fun new spatulas and aprons may not cast a spell of success over everything you bake and it's not like they're magically going to make the kids love broccoli. But that doesn't make us want them any less. Accio credit card!
This article was originally published on