Harry Potter Scrabble Is Coming, So Brush Up On Your Magical Vocab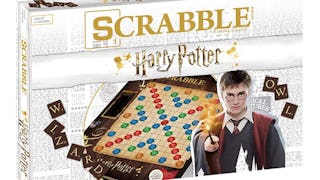 Image via USAopoly
Accio dictionary! Harry Potter Scrabble is coming out later this year
In seven books and eight movies, the Harry Potter series delivered an entire dictionary worth of magical vocabulary words. In most cases, knowing things like the names of spells and locations from the Potter universe shows what a diehard fan you might be, but that's about it. Not anymore. Potterheads will be able to put that knowledge to good use later this year when USAopoly releases a Harry Potter Scrabble game.
This is happening not a moment too soon. For nerds everywhere, Harry Potter and Scrabble are simply two of the best things life has to offer. Combining them? Be still my nerdy, nerdy heart.
According to USAopoly's press release, the Harry Potter version of Scrabble will work pretty much like the original, classic game, but with a few magical twists.
"In addition to the traditionally allowed words, players can apply their Wizarding World vocabulary to earn Magical Word bonuses," it reveals. "Character names, places from the wizarding world, spells and potion names are all accepted in the game. Players can also enhance their score by completing directives from Harry Potter cards, which are unique to this version of the game."
So that means spells like accio, lumos and episkey will be accepted, as well as potions like felix and pepperup. It also means names like Severus, Dobby and Hagrid will likely be acceptable, as well as places, like Hogwarts and London. Scrabble purists may balk at the addition of proper nouns, but they can just go play regular Scrabble by themselves. The rest of us will be having the best time playing Harry Potter Scrabble and using magical names and places for those extra points.
There's not a lot of info about what the Harry Potter cards will entail, but we're sure they'll add a fun twist to the classic game. And the board design incorporates a ton of subtle nods to the Potter universe, like how all the extra-point spaces are designed to look like wax seals.
Scrabble: World of Harry Potter doesn't have an exact release date yet, but you can expect to see it in stores in Spring of 2019. The only downside here is having to wait so long.
2019 is going to be a good year for Potterheads, because Harry Potter Scrabble isn't the only themed game USAopoly plans to release this year. The same press release announced another game called Harry Potter Defense Against the Dark Arts, which is described as "a two-player competitive deck-building game inspired by the popular Harry Potter Hogwarts Battle." The company also plans to release an unnamed "Wizarding World cooperative game."
These new games join USAopoly's already popular set of Harry Potter board games, including a Potter version of Trivial Pursuit that we love.
There's also Harry Potter Hogwarts Battle, Codenames: Harry Potter, CLUE: Harry Potter and Munchkin Harry Potter. Basically, you can spend all your board game time in the Harry Potter universe, which is the best way to spend your board game time.
This article was originally published on