These Harry Potter Spoons Are Exactly What You Need To Cook Up Some Magic
by Cassandra Stone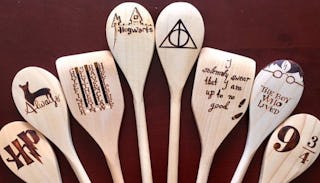 Image via Etsy/NobbinsBobbinsNBling
Get ready to whip up some magical dishes in the kitchen with these must-have Harry Potter spoons
When it comes to kitchen accessories, the cuter the better — let's be honest. Which is exactly why you need to retire your old wooden spoons in favor of these fantastic Harry Potter spoons. You'll want the whole magical set, just you wait.
These wooden kitchen utensils are everything your Harry Potter-loving heart needs for your kitchen. The best part? There are a variety of styles, symbols, and quotes from the beloved books on each of them. Etsy shop NobbinsBobbinsNBling has the wicked wooden utensils you didn't know you desperately needed.
Harry Potter logo? Check. Lily Potter's Patronus? Check. Deathly Hallows symbol? Check. Personally, I'm a fan of the Marauder's Map quote — is there anything better than that for cooking up some magic in the kitchen? I think not. The King's Cross platform is a close second for me, too.
You can choose from eight different designs and a variety of spoon sizes — or, if you're feeling extra fancy, the entire set. Can we all just appreciate the artwork here for a second? Who knew the entirety of Hogwarts could fit so well on a wooden spoon?
The seller also makes spoons for each Hogwarts house.
These spoons are technically dishwasher-safe, but it's recommended that you hand wash them instead. The seller also notes that each item is unique and may differ slightly from those in the image, as they are hand-burned and made to order.
BRB, summoning my own Patronus — which is, ironically, a sentient wallet. Which is perfect because I can't decide which spoon I like best, so I'm gonna need the whole set.
This article was originally published on