Every Super Fan Will Want This Limited-Edition Harry Potter Trivial Pursuit Game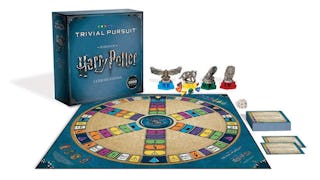 Image via Amazon
Literally every Potterhead will be asking for Harry Potter Trivial Pursuit this holiday season
Somehow, the book series that ushered pretty much all millennials into adulthood is turning 20 years old. Instead of wondering how time has flown by so damn fast, Potterheads can celebrate the amazing milestone by testing their knowledge of the wizarding world with this limited edition Harry Potter Trivial Pursuit game.
Welcome to the #1 item on every fan's holiday wish list.
The game, which retails for $49.95 on Amazon, contains 1,800 questions in six tough categories: Slytherin house; Death Eaters and the dark arts; objects and artifacts; animals, magical creatures and beings; witches, wizards, ghosts and muggles; Hogwarts and transportation; and spells, potions, and other magic. According to the Amazon listing, the questions are based on the movies, not the books.
And they seriously took like doozies. Winning this game is going to take some brushing up on Potter trivia for sure.
The game works pretty much like classical Trivial Pursuit, in that winning requires answering enough questions correctly to fill your game piece with colored wedges representing each category. Only there are tons of details that will appeal to HP lovers, like how the game pieces are all themed for the different Hogwarts houses.
And of course the board is also covered with Harry Potter references — the symbols for the question categories include a wand, a silhouette of the Hogwarts Castle and the sign of the Deathly Hallows.
If you want to grab this game, you're gonna have to get on it — the retailer only had two left in stock on Amazon at press time. The game also made Amazon's Top 100 Toys list ahead of the holiday shopping season, so you know it's going to be popular and tough to get your hands on. You better accio that credit card and not wait too long, lest you be the only Muggle left out of the fun.
This article was originally published on