Harry Styles Confirms 'Watermelon Sugar' Is About 'The Female Orgasm'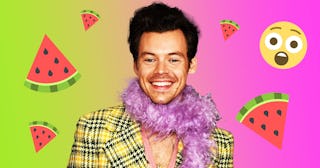 Scary Mommy and Kevin Mazur/Getty
At long last, Harry Styles has confirmed that, yes, his hit song "Watermelon Sugar" is a celebration of "the female orgasm"
When both the song and video for Harry Styles' "Watermelon Sugar" dropped last year, fans were quick to notice that it seemed to be an ode to women's sexual pleasure, especially given the song's, ahem, tongue-in-cheek metaphors about the taste of various fruits and the video's display of women in sheer bliss.
At the time, Styles revealed he'd begun writing the song back in 2017 during time between tour stops in Nashville, Tennessee, sharing during his NPR Tiny Desk performance that the song was about that "initial euphoria of when you start seeing someone, you start sleeping with someone, or just being around someone and you have that kind of excitement about… you know." Though he didn't quite admit it at the time, he has finally revealed that the single is a celebration of women's orgasms, and we don't blame you if you need to take a cold shower after hearing him say what we've all already known to be true.
During his October 1st tour stop — fittingly at the Bridgestone Arena in Nashville — the sex-positive king told the audience that yes, the song is an ode to the orgasm. Fans captured and shared clips of the adorable and steamy moment of Styles' on-stage confession, and it's so unbelievably charming and sweet all at once.
Prior to the song's intro, the former One Direction member can be heard telling the audience, "This song is about … it doesn't really matter what it's about," adding, "It's about, uh, the sweetness of life."
He then encourages fans to sing along with him, pausing after a few lines to add, "It's also about the female orgasm, but that's totally different. It's not really relevant. So that settles that." Naturally, the crowd swooned, cheered, and screamed accordingly.
Of course, what shouldn't be a big deal in 2021 — a cis male musician loudly and proudly prioritizing women's sexual pleasure — still is (thanks, patriarchy!), and we couldn't be more thrilled that Styles is spelling it out for people in such a straightforward (albeit extraordinarily sexy) way.
If you're not already convinced about Styles' sex-positive supremacy, perhaps this might help move things along. The singer was spotted the very next day by a fan wearing a t-shirt that read out some of the lyrics to Rihanna's 2011 hit "S&M," with his shirt reading, "Sticks and stones may break my bones but chains and whips excite me."
At this point, it's truly the bare minimum when we discover that cis male celebrities treat women with dignity and respect (looking at you, Robin Thicke), but Styles continues to prove why stanning him is such a solid choice. Keep doing us proud, sir.