Harvey Weinstein Found Guilty On 2 Counts, Acquitted Of Most Serious Charges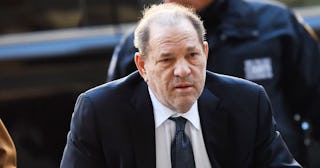 JOHANNES EISELE/Getty
Harvey Weinstein has been found guilty on two charges
Disgraced film producer Harvey Weinstein was found guilty on Monday of rape and a criminal sexual act. He was found not guilty of the most serious charges in the case, two counts of predatory sexual assault.
The verdict comes after weeks of heartbreaking and infuriating testimony from several of his accusers who told the jury about rapes, forced oral sex, sexual misconduct, masturbation, and other sexual acts while they worked for him. Weinstein did not testify at the trial.
The guilty charge was for third-degree rape of aspiring actress Jessica Mann in a hotel room in Manhattan in 2013. The first-degree criminal sexual act charge that he was convicted of was for forcibly performing oral sex on production assistant Mimi Haley in 2006. Additionally, he was acquitted in court in Manhattan of first-degree rape, the AP reports. He still has additional charges pending in Los Angeles.
Actress Annabella Sciorra also testified during the trial that Weinstein raped her in her apartment in either late 1993 or early 1994 but Weinstein was found not guilty of this charge. Her testimony, and that of the other women, allowed prosecutors to show a pattern of behavior that ultimately led to the guilty charges.
Jury deliberations in the case began last Tuesday morning and the seven men and five women took five days to reach a decision after sending a note to the judge Friday indicating they were deadlocked on some the counts but had reached a verdict on others. After some debate, the judge ordered jurors to keep deliberating.
It's been a long road for survivors when, in October 2017, The New Yorker magazine and The New York Times published articles detailing his decades-long sexual abuse of women, including interviews with several well-known actresses. The articles also accused Weinstein of secret financial payouts made by his company in order to keep his victims from going public. In total, over 85 women came forward to accuse him of abuse and sexual assault.
The articles also set in motion the #MeToo movement which led to the downfall of many famous (and not so famous) men as individuals came forward to tell their own stories of abuse and sexual harassment.
Weinstein turned himself over to police in Spring of 2018 and was released on bond shortly afterward. He pled not guilty to all charges.
"This defendant used his position, money and power to lure young women into situations where he was able to violate them sexually," Manhattan Assistant Attorney Joan Illuzzi-Orbon said in court, preceding his arrest.
Though he was let off on several charges, his guilty verdict will go a long way in healing for his victims. His sentencing will be held on March 11. He could face up to 25 years in jail.