Everything Revealed In Harvey Weinstein's Uncovered Court Documents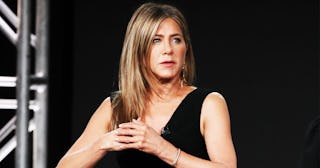 David Livingston/Getty
He also had a 'red flag list' consisting of people he was afraid would report on his misconduct to the media
Emails and other sealed documents of Harvey Weinstein's reveal the desperate lengths he went to after sexual abuse and rape allegations first surfaced against him over two years ago, prior to his arraignment. One email even went so far as to reveal that he thought Jennifer Aniston "should be killed" after a reporter questioned him about an allegation that he had groped her.
According to Variety, Sam Anson, a private investigator, was called to testify as a witness for the state last week during the Harvey Weinstein trial. Anson said he was approached directly by Weinstein to investigate people he believed were talking to journalists about his sexual conduct with women.
Though Anson ultimately decided not to conduct an investigation on behalf of Weinstein, he did receive emails from Weinstein himself and his attorney. One document Anson received was a "red flag list," which contained names and information about the people Weinstein thought would talk to the media about his sordid history of abuse.
Those on the "red flag list" include Ben Affleck, Rose McGowan (one of Weinstein's rape victims), Annabella Sciorra (another rape victim), Jason Blum, Leslye Headland (a former assistant of Weinstein's and creator of Netflix's Russian Doll).
Once the allegations became public and increased in number and fervor — igniting the #MeToo movement — Weinstein became desperate. The unsealed documents show he reached out to many of his wealthy and powerful acquaintances for help, urging them to write open letters and public statements on his behalf.
Those he sent emails to include Michael Bloomberg, Apple's Tim Cook, Amazon's Jeff Bezos, where he said, "If I have support from someone like you getting me going into treatment and having the shot at a second chance (because people deserve a second chance)." He told Bezos he was the "poster boy for bad behavior" and that the allegations against him would be proven "false over time."
Variety also reports that he reached out to director Quentin Tarantino, Tarantino's agent, and his wife for support as well. He wanted the director to write him a private letter of support to the board of The Weinstein Co., which he was eventually ousted from spearheading.
According to Anson's preliminary communication in the ordeal, one of Weinstein's attorneys, Arthur Aidala, urged Anson to take on the investigation because Weinstein said people on the "red flag list" were going to extort him.
In the fall of 2017, the National Enquirer reached out to Weinstein's lawyers about a story they were working on that stated Jennifer Aniston was assaulted by Weinstein. Though she and her reps have denied she was ever assaulted, when he found out about it, Weinstein's reaction was absolutely chilling.
"Jennifer Aniston should be killed," he wrote to a reporter from the Enquirer.
Weinstein's crimes against 87 women include actresses Uma Thurman, Rose McGowan, Ashley Judd, Mira Sorvino, Rosanna Arquette, Kate Beckinsale, Angelina Jolie, Cara Delevingne, and more.
As of this morning, Harvey Weinstein to 20 years for criminal sex act in the first degree and three years for rape in the third degree. He'll serve both sentences consecutively for assaulting two women in New York. He was also sentenced to 10 years of post-release supervision for both charges.
This article was originally published on