Hasbro Toys Gives Parents A Sigh Of Relief Amid Holiday Supply Chain Woes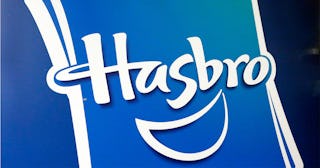 Richard Drew/AP/Shutterstock
Hasbro gave an update on its toys ahead of this year's expected widespread holiday shopping supply chain crisis
As if holiday shopping isn't stressful enough in a normal year, the ongoing supply chain crisis caused by the COVID-19 pandemic has experts warning that getting your shopping done early — like, now — is the only surefire way to guarantee you'll have everything you need to make the upcoming holidays as festive and worry-free as is humanly possible. (LOL)
Thankfully, there are some bright spots to what feels like an unending situation — and Hasbro is here to help parents breathe a big sigh of relief as they start making their lists and checking them twice. The iconic game and toy company just released its sales and earnings reports for the third quarter, with revenue up a whopping 11 percent from the year prior. Hasbro's interim CEO shared that solid sales and growth means they're ready to meet consumer and retailer demand for toys during the holidays, including the most popular offerings from Dungeons & Dragons, Peppa Pig, and Magic: The Gathering.
CNN reports that in a company statement released Tuesday, October 26, interim CEO Rich Stoddart said despite recent "global supply chain challenges in the quarter, our teams continue to work around the clock to secure transport for our goods to meet the robust demand for Hasbro brands."
Still, recent months haven't been without challenges, with Hasbro reporting around $100 million worth of orders not filled in the third quarter due to port congestion and other supply chain issues, such as higher freight costs. Hasbo CFO Deborah Thomas seemed optimistic, sharing that the company has delivered "much of what was delayed in the third quarter despite continued supply chain challenges."
Reuters noted that in an analyst call, Thomas added, "We've got everything in place and there will be Hasbro toys and games on the shelves this holiday season."
So while it seems like there might be more headaches than normal this holiday season, those Nerf blasters and My Little Pony toys your littles can't stop talking about will be able to safely make their way to you in time for the holidays. Either way, getting a jump start on your shopping is never a bad idea — there's truly nothing that beats the joy of checking everything off your list way ahead of time, so you can worry about, you know, the 500 other things you have to worry about on a daily basis.