7 Ways I'm Having An '80s Christmas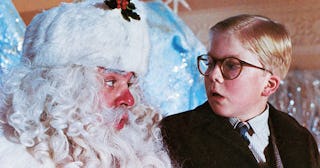 Archive Photos/Getty
A fluke early-November snowfall was all it took. I was ready to ditch the porch pumpkins, the vanilla candle, and the "be thankful" signs for all-things-Christmas. And not just Christmas, but 1980s Christmas—because that's where legit Christmas is at.
I'm one of those annoying people who thinks Christmas is the best holiday—truly, the most wonderful time of the year. I can't wait for Starbucks to roll out peppermint mochas and eggnog lattes—abruptly dropping the PSLs. I get giddy when the Halloween candy goes 90% off because I know the shelves are being cleared for the good stuff. You know, ornaments, chocolate Santas, and wrapping paper.
As a child of the '80s, I have fond Christmas memories—traditions that I keep in rotation for my family of six. Despite my love of this season—I'm not here for the trends. We don't do Elf on the Shelf, unwrap a Christmas book a day, or have a trendy tree in our living room. Thanks, but no thanks. We celebrate Christmas 1980s style. Join me?
1. We're watching classic Christmas movies.
In November and December, the kids know they can choose between Home Alone, Home Alone 2, Christmas Vacation, and Elf. That's it. Kidding, not kidding. We have blankets and pillows all over the living room, bowls of popcorn in-hand, ready for the predictable comfort when Kevin runs into Old Man Marley at the store. And then we walk around quoting movie lines to one another. My affectionate son will randomly tell people, "You're so pretty! You should be on a Christmas card!" And if you don't know what movie that's from, this conversation is over.
2. We're decorating the tree as a family.
Our tree is a hodge-podge of ornaments, some dating back to when my husband and I were in grade school. There's no color coordination or themes. I repeat–no coordinating. We have a huge collection of Black Santas and angels—in addition to ornaments the kids craft, some garland that smells like toxic plastic, and an old school star for the top of the tree. I'm absolutely not making my tree Instagram worthy. We don't live in a hotel lobby. Other 1980s options? Tinsel, blinky and colored bulb lights, and ornaments where a school picture is hodge-podged onto a ceramic, hand-painted angel. Hideous? You bet!
3. We bake and decorate cookies.
I know. It's messy and time consuming. And the result? Never pretty. But the kids absolutely love pouring a mountain of unnaturally colored sprinkles on top of too-much red and white icing. Yes, more sprinkles wind up on the counter and the floor than on the cookies themselves. Cutting out cookies with actual cookie cutters? Magical. It is completely irrelevant how they taste. The Christmas spirit is in the process. Of course, we're also listening to music, and following up this event—because it's absolutely an event—we box up the cookies and hand them out to our nearest and dearest.
4. We listen to Christmas music.
A few years ago, I bought one hundred classic Christmas songs for $5.99 off iTunes—a Black Friday special—to add to my other ten hours of Christmas music. We listen to our extensive playlist from November 1 until well past Christmas Day. Yes, there are contemporary additions, like Kelly Clarkson's remake duet of Baby, It's Cold Outside with John Legend. But the old staples—from Nat King Cole, Ella Fitzgerald, and Bing Crosby—are still our favorites.
5. We wrap gifts.
You might be thinking—what's so retro about wrapping gifts? Well, I don't just mean I wrap gifts. I wrap gifts. Like pull out the wrapping paper, tape, ribbon, scissors, and gift tags. I pretty much loathe gift bags. There's something mesmerizing about seeing stacks of mismatched wrapped gifts under the tree and secretly shaking them to try to guess what's inside. And I really dig tacky wrapping paper. I'm not trying to be Martha Stewart here. My grandma used to wrap presents with the Sunday newspaper comics—because, it was the '80s.
6. We mail cards.
Oh yes, we do. We mail boxed Christmas cards to friends and family, adding in a printed family pic. I'm not here for the impersonal "Merry Christmas" text. No. We buy Christmas themed-stamps and handwrite addresses on the envelopes. Then we decorate each one with a smattering of glittery reindeer and wreath stickers and drop our stack off at the post office. And when we get cards in the mail? The kids argue over who gets to open them first.
7. We visit Santa—in a mall.
Every year, my kids look forward to seeing Santa. The anticipation of arriving, then standing in a long line, and then finally having your turn is the epitome of holiday magic. Yes, it's totally old school that Santa sits on a velvet throne and throws out "ho ho ho" every few minutes, then gives the kids a candy cane. But after weeks of browsing the toy catalogs–which yes, we do–my kids cannot wait to answer Santa's question. What do you want for Christmas?
https://www.instagram.com/p/B4pa6s8heKZ/?utm_source=ig_web_copy_link
I know what you're thinking. This woman has too much time on her hands. I absolutely make time for throw backs to the '80s during the holiday season. There's something comforting about making some Swiss Miss and basking in the glow of tree lights. The reality is, I'm totally in love–with Christmas–and I don't care who knows about it.
This article was originally published on