This Is Why The Head Start Program Is So Important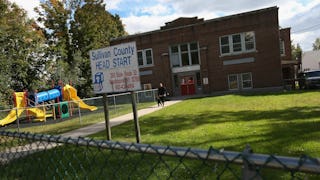 JOHN MOORE / GETTY IMAGES
Giving children the tools they need to succeed in life is crucial for their wellbeing. One of the earliest ways to set kids up for success is giving them access to education. Yet, many low-income families are fighting a losing battle when it comes to education access for their young children.
That's where the Head Start program comes in. It provides low income kids with the opportunities they deserve. But it goes much deeper than just providing access to early education. The program gives children the tools they need to succeed in life outside of the classroom, and beyond their schooling years too.
Head Start is a federally funded program that started in the early 1960s. It was created as a way to address the fact that poverty was affecting the educational opportunities of kids between the ages of 3 and 5. Children from low income families are set up to fail even before they get the chance to start, while kids from more privileged households are able to easily access preschool programs and early education opportunities (and often at a younger age).
Head Start was designed to level that playing field.
From its inception, Head Start has addressed things that private preschool, or even universal Pre-K programs may not be. Not only is it giving economically disadvantaged kids a preschool education, but it's addressing their emotional, psychological, nutritional and social needs as well. In other words, it's not just preparing them academically, but giving them the space to be more well-rounded children who will go on to be more well rounded adults. The needs that are being addressed by Head Start programs often fall by the wayside for low-income families.
Since 1998, Head Start has been able to operate full-day and full-year programs at some sites. For parents who need to work a full day and don't make enough to afford typical daycare programs, it's an invaluable blessing. And the kids attending are also learning things that they might learn in a preschool program. A three-year-old who is attending Head Start will be learning how to read and write, which means they are likely to be on par with their peers when they get to pre-k or kindergarten.
While anyone who has ever attended a Head Start program or who has kids attending Head Start will attest to its merits, studies are inconclusive. A new working paper from the University of Michigan is using census data from 2000 to 2013 to examine the long term effects of attendance in the program has had on its students. Adults filling out the census during the years above would have been children during the early years of the Head Start program, so it provides tangible evidence to the benefits of the program.
By using factors like the county-level rollout of the program between 1965 and 1980 and age eligibility requirements by state, they found that Head Start is actually quite effective. "[P]articipation in Head Start is associated with increases in adult human capital and economic self-sufficiency, including a 0.29-year increase in schooling, a 2.1-percent increase in high-school completion, an 8.7-percent increase in college enrollment, and a 19-percent increase in college completion," the paper reads.
This is where things get muddy. Because we have this evidence that, yes, Head Start programs have long-term lasting positive effects on the kids involved. But then there is also evidence that shows it doesn't have strong (or any) effect short term. A recent study by the Department of Health and Human Services, which runs Head Start claims, "The benefits of access to Head Start at age four are largely absent by 1st grade for the program population as a whole."
And because of this, the federal government doesn't invest in the program the way they should. As reported by The Hill in 2018, the Office of Head Start was forced to postpone extending longer days and operating longer during the year for four-year-olds because "the program would need to cut 41,000 slots to make the change under current funding levels."
While the Head Start program got a 610 million dollar increase in the 2018 fiscal year, that was a hard won fight. It barely even makes a dent in the true needs, and hardly covers the cost of inflation. Paying teachers was a huge factor, and with the increase in funding, some are seeing a raise in pay of maybe $2.
While it may be true that academically the playing field levels out, you really need to look at it through the lens of why Head Start was created in the first place. It wasn't meant to give kids an academic edge on the peers, but to give kids living in poverty and chance to even be on the same footing as their peers when they started.
I am a parent who relies on the Head Start program to give my kid that leg up. As a low-income, single parent, private preschool is completely out of reach with my income. And where we live in Los Angeles, my son wouldn't be able to attend our public preschool option, TK (transitional kindergarten) until he's five. I work from home, and having him home with me all day was really affecting my productivity which affects my ability to make the money I need to support us. Plus, he needed to be around his peers — learning how to engage with them socially.
He attends a half-day program now, which means he's in school for three and a half hours, five days a week and he still has regular breaks for the holidays and summer. I don't need full day all-year care, but there is a site that offers it for those families who need it. I have seen vast improvements in the way he socializes with his peers, but also his aptitude academically. This year, the program he attends has implemented emotional health more regularly into the curriculum, teaching things like managing patience and anger. It's been invaluable for my son (and for me).
These are the things that are being addressed by the paper from University of Michigan, which says that the long-term effects of attending a Head Start program are profound and extend beyond the academic. For instance, a kid in the program is learning about proper nutrition — not only are they getting a balanced meal their family may not be able to provide, but they are taking that knowledge with them once they leave the program. And they're trying healthy foods they might not have access to otherwise.
Head Start goes beyond academic learning — it is truly giving kids the tools they need to succeed long term inside and outside the classroom. We need to begin to shift our focus past being academically advanced. There are so many other valuable things for kids to learn. Those are the lessons being provided by Head Start, and that's why we're lucky to have it — and why we need to continue to make sure that it is adequately funded and supported.
This article was originally published on