Heart Disease Is The No. 1 Killer For Women, So Knowing The Signs Could Save Your Life (Or Someone Else's)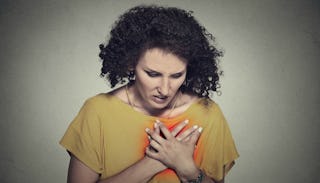 Siphotography / iStock
On a warm summer day in 2009, I greeted my neighbor in our yard, just after he returned home from a vacation at the beach. As I hugged him and welcomed him home, I asked him how his trip was and if he and his wife had a good time sharing the beach home they'd rented with extended family. Expecting to hear stories of cocktails and beach walks with his grandkids, I was shocked when his eyes filled with tears and his face lost all color.
His 38-year-old otherwise-healthy niece had gone into cardiac arrest on a bright summer morning in their beach house. My neighbor, her uncle, was the only one home when she collapsed, and he was tasked with performing lifesaving CPR maneuvers until the paramedics could arrive. Her mother, running morning errands, came home to every mother's nightmare: police cars, fire and rescue, and ambulances crowded the driveway, and she watched helplessly as they took her daughter to the nearest medical center.
His niece had an angel on her shoulder that day in the form of an uncle who not only recognized her symptoms as a heart attack but also knew how to quickly perform his CPR skills to keep her alive. After several days in a coma, my neighbor's niece woke up, and much to the astonishment of her family and medical team, she recovered completely. She was able to hold her babies again because her uncle had saved her life.
As I listened to my neighbor recount his harrowing story, I kept going back to the fact that I was the same age as his niece. I, too, was a busy mom of two small children and often found myself putting off my own well visits and checkups because life with kids is pure chaos. I was dumbfounded to learn that heart disease is the No. 1 killer of both men and women in this country. And I was shocked to learn that heart disease isn't just limited to the elderly. Heart disease can strike at any age, and that's frightening.
Despite the fact that we hear more about breast cancers and female reproductive cancers, it is more likely that a woman will have a deadly cardiac event than die of breast cancer.
Learning that statistic, especially with a family history of cardiac issues, I immediately made an appointment with my doctor for a full medical workup. And I've continued to make my health and wellness a priority because I don't want to be the mother lying on the floor as her horrified family helplessly watches a team try to bring me back to life.
Symptoms of heart disease in women often present very different than in men. And further complicating early diagnosis and treatment is the fact that women are more likely to ignore their symptoms or explain them away as "normal" everyday stress.
While the most common symptom in women is pressure, pain, or discomfort in the chest, there are other symptoms that could signal a cardiac event. Women are more likely to feel symptoms while at rest or sleeping, and since their symptoms aren't always "typical," often women suffer more extensive cardiac damage as a result of ignoring their symptoms or waiting too long to seek medical attention. According to the Mayo Clinic, see your doctor immediately if you are experiencing:
Neck, jaw, shoulder, upper back or abdominal discomfort
Shortness of breath Pain in one or both arms Nausea or vomiting Sweating Lightheadedness or dizziness Unusual fatigue
And yes, I realize that, as moms, we've all experienced each of these symptoms on a daily basis because let's face it: Toddlers aren't easy. All kidding aside, if you are experiencing these symptoms regularly and you can't shake that fatigue or shortness of breath, see your doctor immediately. Doing so will mean you'll be able to walk your son down the aisle at his wedding or watch from the audience as your daughter gets that PhD.
In addition to being in tune with our bodies, knowing the signs and symptoms of cardiac disease and arrest could save your friend's life. Someday, you could be at a PTA event or a moms' night out and hear another mother complain of symptoms that might signal she needs to be evaluated. If your friend describes symptoms that sound concerning, demand that she see a doctor and politely badger her until she listens. Offer to watch her kids while she's at the doctor. Go with her and share a cup of coffee while you wait. That's what good friends do: We take care of those around us and remind our friends that they are worthy of good health.
Unfortunately, it's not enough to recognize the symptoms of cardiac arrest. Learning basic CPR skills and having a working knowledge of where defibrillators are kept in your community buildings could save a life. Familiarizing yourself with defibrillator locations in your schools, community centers, and local buildings will make you feel more calm if an emergency should arise. And taking an approved CPR class from the American Red Cross or the American Heart Association will ensure that you won't be standing by helplessly if someone you love has a cardiac event.
Cardiac disease is no joke. I know my neighbor's niece is grateful beyond measure that her uncle took her symptoms as seriously, as well, a heart attack. Do yourself a favor and be kind to your heart. Quit smoking, make diet changes, and get outside for a good, brisk walk. Take care of yourself so that you can have a long life taking care of the babies you love so much.
If you think you are experiencing cardiac symptoms, call for emergency help immediately. Do not drive yourself to the hospital. I know it sounds impossible, but try to remain calm until help arrives.
This article was originally published on