This Heated Blanket Plugs Into Your Car So Your Commute Can Be Cozy AF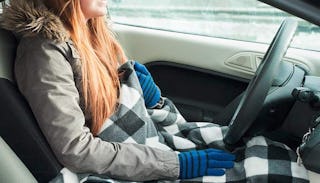 Image via Amazon
Prepare for a super warm, comfy car ride with this heated blanket
The fall chill is officially here which means you're going to want to be bundled up at all times. However, those cold morning commutes might call for some extra reinforcement. Allow me to introduce you to the heated blanket that can literally be plugged into your car. Prepare for all the warmth and coziness.
Here's the whole snuggly deal. This electric heated blanket comes with an 8-inch long fused car cord, has automatic temperature control, and is made from very cute polyester fleece fabric. There's a 30 or 45 minute timer with an auto shut off so you don't have to worry about the blanket getting overheated. Also, it's big enough to wrap around two people which means no one has to fight over who gets to be cozy.
The reviews are pretty glowing, which makes for an excellent added bonus. One person used the words "instant warmth" and another person used the word "awesomeness," so we're pretty much sold. There's also another set of super comfy heated car blankets that comes in different colors, just in case you want to get personalized ones for the whole fam.
Now, if only we could plug in an endless supply of hot chocolate for the road. That would make us the happiest of campers.
Okay, has this officially put you in the market for warm accessories that will stop your hands and toes from freezing to death? If that's the case, we'd like to turn your attention to a few other heated goodies. Like, these unicorn hand warmers that will keep your fingers toasty AND reach about 1,000 on the cuteness scale.
Or these heated corgi slippers that will warm up your feet and make it a little less painful to wake up at the crack of down. Warm feet = a very happy heart.
There's also a neck warmer that's in the shape of a grumpy cat and we need it immediately. Wear your heated blanket and your cat warmer during your daily car drive and life will be so much more fun. People will probably only minimally judge.
Here's to the warmest and coziest of falls. If you're not wrapped in a heated blanket, wearing unicorns on your fingers, you're doing something wrong.
We are a participant in the Walmart.com Affiliate Program and may earn fees by linking to Walmart.com and affiliated sites.
This article was originally published on