'Glee' Cast Was 'Very Scared' To Report Lea Michele's Bullying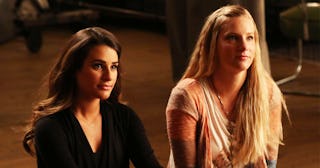 FOX Image Collection/Getty
In a new podcast interview, Glee alum Heather Morris explained why the cast felt "very scared" to report Lea Michele's bullying to Fox execs
After Lea Michele took to Twitter in a since-deleted tweet last summer in support of the growing Black Lives Matter movement, several of her Glee co-stars came forward with accusations against Michele, including that she made cast member Samantha Ware's first job in television "a living hell" and made racist comments and engaged in aggressive behavior towards other Black women on the set. Reports also surfaced that Michele's behavior extended to extras and behind-the-scenes crew of the hit series, which ran on Fox from 2009 to 2015.
Michele quickly apologized on Instagram, claiming that she didn't remember the instances she was accused of, adding, "While I don't remember ever making this specific statement and I have never judged others by their background or color of their skin, that's not really the point. What matters is that I clearly acted in ways which hurt other people. I apologize for my behavior and for any pain which I have caused. We all can grow and change and I have definitely used these past several months to reflect on my own shortcomings."
Other accusations continued to roll in, with one of the show's stars, Heather Morris, taking to Twitter seemingly to corroborate the stories. Morris says Michele was "unpleasant to work with," adding, "for Lea to treat others with the disrespect that she did for as long as she did, I believe she SHOULD be called out."
In an interview on the May 26 episode of Danny Pellegrino's podcast Everything Iconic with Danny Pellegrino, Morris opened up further about Michele's behavior behind the scenes, sharing why the cast was "very scared" to report it to higher-ups at the network, before then getting flak for not being more straightforward about the allegations against Michele in her tweet last year.
"I remember getting so much shade and people were like, 'This is so fucking cryptic. Why don't you go out and say it?'" Morris said of the stories going public, which coincided with Michele's first pregnancy last summer. "I'm like, 'Guys, she's pregnant and all this stuff is going around.' … I don't know if maybe we were victims of bullying, and that's a typical victim thing to do to blame yourself, which is what people were saying, but … the only person who was honest about it was [the late] Naya [Rivera]."
Morris said that Michele's behavior "was something that was very hush-hush on set, and now you see all these things coming out with these bigger names who were very disrespectful and mistreated a lot of people," she noted. "We absolutely could have stepped up and gone to the Fox execs and said how we felt about the situation, and nobody really did. And so now we are living in a culture where it's acceptable to go do things like that, whereas I think many people [back then] were very scared. I know, genuinely, I didn't feel like it was my place. And I don't know why, because I was a cast member just like everybody else, and we all deserve to feel comfortable on a set."
Asked if there was "a specific instance" or just "always an elephant in the room," Morris said it was "it was the elephant in the room." She added, "we all got close with Lea at certain points, and then we all weren't as close with her, and so there's a human element to it to understanding who this person is, growing with that person, seeing her try to become better. And, you know, taking care of herself after Corey [Monteith] passed. You know, it was just the elephant in the room."
She shared that she hasn't been in touch with Michele recently but wishes her and her family all the best.