Heather Morris Pays Tribute To Naya Rivera With A Tattoo Of Her Words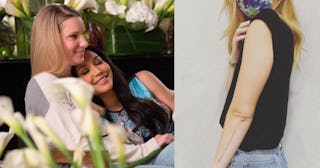 Fox/Getty/Heather Morris/Instagram
One year after Naya Rivera tragically died, her friend and co-star Heather Morris paid her a touching tribute
Earlier this week was the one year anniversary of the day that Glee star Naya Rivera tragically died. A frantic search for her began in early July last year on Lake Piru after her son, Josey, was found alone in a boat she had rented. Days later, rescuers announced that they had recovered her body. Investigators said she likely drowned while saving her son after the boat drifted away from them while they were swimming. Her fans, co-stars, and friends were heartbroken at the news of such a bright and rising star gone so soon.
Now, on the one-year anniversary of Rivera's death, her co-star and close friend Heather Morris showed how she's honoring her: With a tattoo containing words from one of Rivera's last tweets.
Morris shared the new ink on Instagram (scroll to the right to see video of her getting the tattoo, and a photo of it completed).
"It hasn't gotten easier to write a caption," she wrote alongside a photo of Rivera. "You are the brightest star in my eyes Naya Rivera. I'm so grateful GOD LAYED A HAND and brought us together as best friends, mom friends, scene partners, and everything in between. Your legacy lives on in kindness and being 'that sassy queen' in my eyes. I love you forever bebe girl."
Morris's new tattoo, which is script running down the length of her left forearm, reads, "tomorrow is not promised." The words come from one of Rivera's last tweets, posted on July 2 last year, which read, "no matter the year, circumstance, or strifes everyday you're alive is a blessing. make the most of today and every day you are given. tomorrow is not promised."
Morris and Rivera starred together on Glee as two of the Cheerios, Brittany and Santana. The two were close friends (and eventually girlfriends) on screen, but their real life relationship mirrored the one on the show, with the two actors becoming incredibly close. As rescuers looked for Rivera on Lake Piru, Morris joined her family and other Glee stars for vigils at the side of the lake.
Rivera was the third Glee star to pass away unexpectedly, following Cory Monteith's death from an overdose in 2013, and Mark Salling's suicide in 2018 after he was arrested for possessing inappropriate content containing minors.